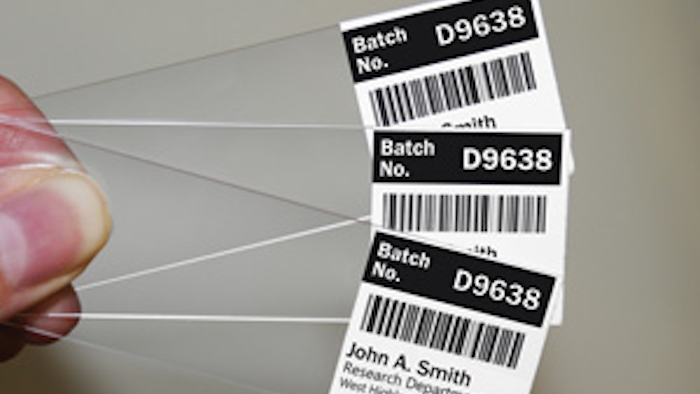 Graphic Products Inc. has introduced new DuraChem chemical-resistant and alcohol-resistant labels for identifying laboratory slides and providing hazard warnings on chemical drums at medical facilities and food-processing plants. According to the company, DuraChem supplies:
Are compatible with DuraLabel thermal transfer printers, enabling users to add professional-quality bar codes, sequential batch numbers, facility and brand identification, graphic symbols and other custom touches to signs and labels. 

Are capable of resisting chemicals such as DMSO, alcohol and even xylene; backed with a premium adhesive, these tapes take the punishment of repeated chemical exposure and sub-zero temperatures.

Include proprietary materials that, while printing, chemically bond the "ink" into the topcoat of the label — the printing becomes a physical part of the label, making it highly resistant to fading when exposed to chemicals.

Have dimensional stability with no observable shrinkage and are suitable for surfaces in which temperatures range from -40°F to +302°F (-40°C to 150°C).

Are resistant to mineral spirit, lenium ES, kerosene, transmission fluid, acetone and roller cleaner.

Feature adhesive that meets adhesion strength requirements on the following materials: acrylic, acrylic powder paint, epoxy powder paint, glass, painted metal, painted plastic, polyester powder paint, polypropylene, polyurethane powder paint and stainless steel.

Comply with the U.S. Food and Drug Administration (FDA) regulation for use at locations where indirect food contact may occur (CFR 175.105).

Feature the following stats: a roll length of 90 feet; tape widths of ½, 1, 2, 3 and 4 inches; white color; 3.7 mils film; 0.7mils adhesive; and 3.2 mils liner.