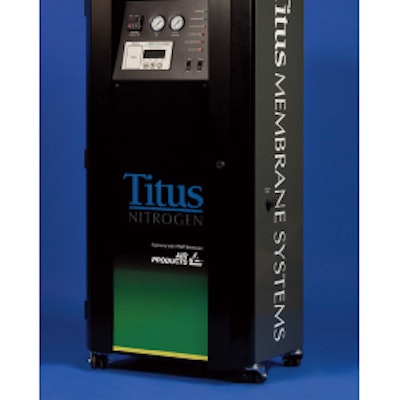 Titus Nitrogen's TNX Series of on?site nitrogen generators offers a revolutionary solution to the problem of increasing nitrogen production without having to make large upfront capital equipment expenditures. According to the company, the expandable series offers:
Proven and reliable PRISM® Membrane technology from Air Products and Chemicals Inc.

Flexible capacity and purity capabilities — capacities from 10 to 2800 SCFH and purities ranging from 95 to 99.9 percent.

Maintenance

?

friendly design — front panel access for filter element replacement or oxygen analyzer service (if applicable) makes TNX the most maintenance

?

friendly unit on the market.

High-visibility control panel that allows for easy and clear system monitoring.

A small footprint that maximizes efficiency while minimizing space needs.

A full range of available options, including Oxygen Analyzer with Auto Delivery, Auto Bypass System, Nitrogen Flow Meter and Hydrocarbon Removal Package for highly sensitive applications.

Economical design — makes high-quality nitrogen from virtually any compressed air source.