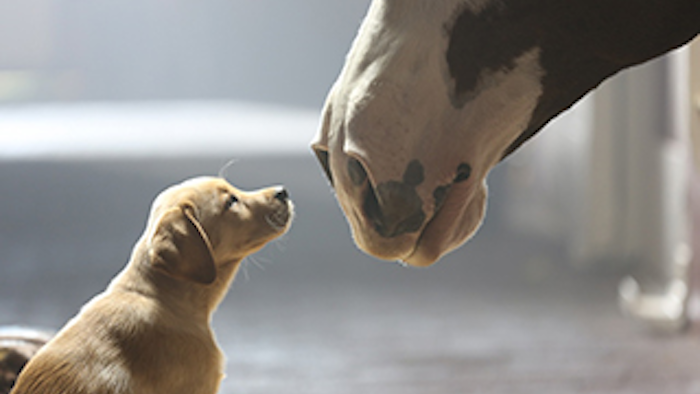 With the decorations put back in their boxes and the tree tossed to the curb, there doesn't seem to be much to look forward to after the holiday season.
Well, besides the Super Bowl.
Regardless of the two teams that actually end up playing, the new advertisements always seem to be a top reason for watching the game.
And this year, Anheuser-Busch — one of the top advertisers for Super Bowl XLIX — has announced the return of the puppies and the Clydesdales. Sort of sounds like a new episode of Star Wars, doesn't it?
"The Return of the Puppies and the Clydesdales"
According to a recent article published by the Associated Press, the company is hoping to top last year's "Puppy Love" spot, which showed a cute puppy bonding with a Clydesdale. The ad topped most of the advertising polls as the top spot of the Big Game.
Jorn Socquet, vice president, U.S. marketing at Anheuser-Busch said to the Associated Press, "The mass appeal of the Super Bowl presents an unparalleled platform to launch 360-degree campaigns that ultimately deliver against our top priority: sell more beer."
Socquet went on to say that consumers look forward to the company's "iconic spots" and what viewers will see during the game is just the beginning of what to expect from Anheuser-Busch in 2015.
The company's flagship brand, Budweiser, will also debut a 60-second ad that highlights brewing credentials for America's No. 1 full-flavored lager.
The second Budweiser ad, "Lost Dog," will feature the world-famous Budweiser Clydesdales and their favorite companion: puppies. The ad will tell an emotional story of helping a puppy who has lost his way learn the true meaning of friendship. Awww!
The game is set to broadcast on Feb. 1 by NBC in Phoenix. According to the Associated Press, a 30-second spot costs around $4.5 million, and with approximately 111.5 million people tuning in to watch the game, the stakes are high for companies.