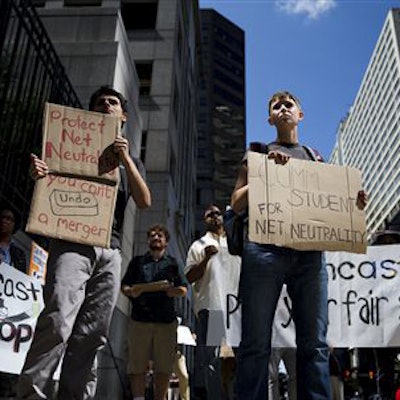 Conversations about technological innovations like driverless cars and Google glass are almost always accompanied by a second conversation about how to regulate the innovation appropriately. While the Internet may seem like a well-established technology, the debate over who should have control of content flow is ongoing.
Net neutrality, according to AP technology writer Michael Liedtke, is "the concept that everyone with an Internet connection should have equal access to all legal content online." It seems basic, but in January 2014 a court ruling invalidated the FCC guidelines to protect net neutrality. The FCC, a five-member committee charged with reworking the guidelines, is set to vote next month on the new rules to govern how Internet service providers manage the flow of content.
To the outrage of many who oppose government regulation of the Internet, President Obama has entered the argument, announcing his stance in November that high-speed Internet providers should be governed by the same regulations used for telephone companies 80 years ago in order to best preserve a free and open Internet for all.
Ed Black, the president of the Computer and Communications Industry Association, agrees. Liedtke quotes Black, "It is historically important that the Internet enhances freedom for all rather than profit for few." Black and other advocates fear that leaving control of Internet traffic to the service provides would allow the companies to reserve the better connections to those consumers able to pay more.
Opponents to regulation contend that an overreach of government control would leave Internet service providers unable to connect to content providers with a large amount of broadband. Liedtke quotes Broadband for America, "Adopting Obama's approach 'would threaten millions of jobs and a diverse array of stakeholders.'" They fear the damage of too much bureaucracy, and worry government meddling would stifle innovation.
For more on the upcoming FCC vote, read "FCC To Vote Next Month On Net Neutrality Rules." For more on Obama's net neutrality stance, read "Obama Inflames Divisive Debate On 'Net Neutrality.'"
Is the Internet a space for freedom and equality, or a tool for profit? What, ultimately, should be the role of the Internet? The government? Is equal access to Internet content a right that should be available to all Internet consumers, or should companies be able to work unregulated by government rules? Comment below.