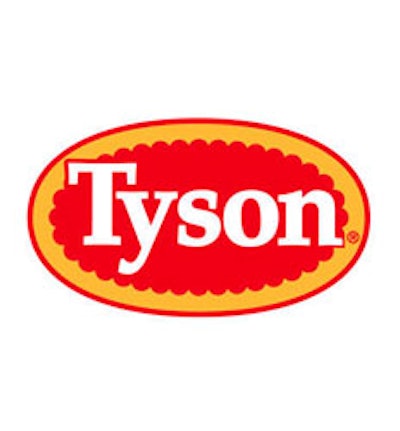 ST. LOUIS (AP) — Tyson Foods Inc. will pay roughly $4 million in civil penalties to settle allegations related to eight accidental anhydrous ammonia releases that caused multiple injuries and one death over four years, the U.S. government and the company said Friday.
The deal, which resolved a federal lawsuit filed in St. Louis by the Environmental Protection Agency, involves alleged Clean Air Act violations at Tyson sites in Missouri, Kansas, Iowa and Nebraska. It still faces a 30-day public comment period and must be approved by a federal judge.
The government scrutiny followed incidents — at least one of them deadly — involving anhydrous ammonia releases at Tyson sites between 2006 and 2010. Exposure to the vapors of the ammonia, commonly used as a fertilizer but in Tyson's case as a refrigerant, can burn eye and throat tissues and cause breathing difficulty, with high concentrations possibly causing lung damage and in extreme cases proving fatal.
The EPA said it found multiple occasions since October 2006 of noncompliance with the Clean Air Act's provisions related to preventing chemical accidents at the Tyson plants, which the EPA said have a combined inventory of more than 1.7 million pounds of anhydrous ammonia.
As part of the consent decree announced Friday, Springdale, Ark.-based Tyson vowed to conduct pipe-testing and third-party audits of its ammonia refrigeration systems to bolster adherence to the Clean Air Act's risk-management program in all 23 of its sites in the four states.
"The vast majority of these accidents are preventable," EPA regional administrator Karl Brooks said in a statement.
As part of the settlement, Tyson also will provide $300,000 to help buy emergency response equipment for fire departments in nine Midwest communities where it has plants.
In a separate statement Friday, Tyson said it disputes many of the EPA's claims but acknowledged "there was a period when some refrigeration-improvement projects fell behind schedule and Tyson did not meet all the obligations required under the program at several locations."
"We strive to operate our facilities responsibly, so after learning of EPA's concerns we immediately made improvements and cooperated with EPA officials throughout the process," said Kevin Igli, Tyson Foods' senior vice president and environmental, health and safety chief.
Igli said Tyson expects the required auditing system to become a model provision the EPA may require from other industrial users of anhydrous ammonia or other chemicals.