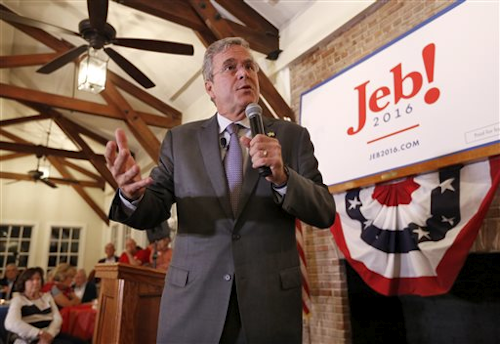 DES MOINES, Iowa (AP) — Republican presidential candidate Jeb Bush says ending the ban on U.S. oil exports and easing restrictions on natural gas exports will unleash the nation's economy.
In a piece posted online Tuesday, the former Florida governor says ending the 1970s-era law prohibiting the U.S. from exporting crude oil is "a once in a lifetime opportunity" as domestic petroleum production has grown rapidly over the past decade.
Bush says reversing the ban, as Republicans in Congress have endorsed, would lower energy prices, create a new manufacturing sector and fuel more rapid economic growth.
Bush is scheduled to discuss the broader energy plan at Rice Energy near Pittsburgh, Pennsylvania, on Tuesday.
Opponents say lifting the ban would mostly benefit the nation's petroleum industry, and provide only a small boost for consumers.