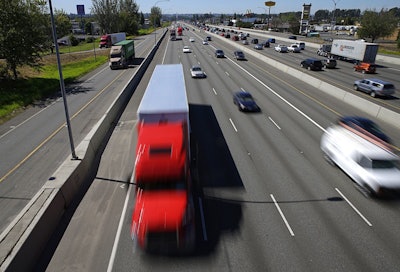 Federal officials moved forward Thursday with requirements that states track vehicle emissions on federal highways after months of delays that prompted California and seven other states to sue.
But they might repeal the new rules next year anyway, rendering this week's decision moot.
The rules require state transportation departments to track on-road emissions of greenhouse gas emissions by looking at gas purchased and miles traveled on federal highways. States must then set emissions targets, with the goal of reducing them over time. Emissions from cars, trucks and other vehicles make up roughly 27 percent of the nation's total greenhouse emissions.
In the short term, the rules will move forward. But federal officials will also undertake a fresh review of whether they're necessary or could be made better.
"We have heard anecdotally that some states are already collecting such data, and we do not want to complicate their work with potentially duplicative federal requirements," said Doug Hecox, a spokesman for the Federal Highway Administration. "It is also unclear whether the rule, as currently written, will have any meaningful utility."
Still, California Attorney General Xavier Becerra is claiming victory, arguing the multistate lawsuit he filed Sept. 20 proved the Trump administration can't ignore the law. "This is a victory for the American people and will help us tackle climate change," Becerra said in a statement.
Becerra has sued the Trump administration repeatedly over environmental policy decisions, arguing it is needlessly delaying rules aimed at combating climate change.
Hecox said he couldn't comment on pending litigation when asked whether the lawsuit prompted the change in course. He also did not say whether the Federal Highway Administration believes asking states to track such emissions is good policy. The new review could eliminate the rules entirely or make them better, he said.
"We'll see what the public wants," Hecox said.