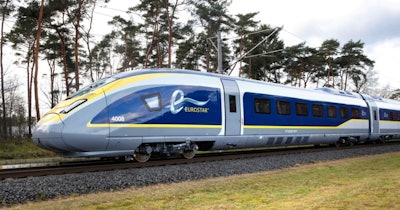 German industrial equipment maker Siemens AG said Tuesday it has agreed to merge its train-building business with French rival Alstom, creating a "new European champion" in the face of rising competition from China.
The deal is a sign of renewed French-German cooperation just days after German Chancellor Angela Merkel won a fourth term in office.
Munich-based Siemens said that under the memorandum of understanding laying out the deal it would hold 50 percent of the shares in the combined entity, with the chance to eventually acquire 2 percent more.
The deal skirted political sensitivities on the French side. The new group's headquarters will be in the Paris area, and Alstom CEO Henri Poupart-Lafarge will lead the entity, which will be called Siemens Alstom.
Both companies make sleek, high-speed trains that go fast enough to compete with airline travel. Many of Alstom's Avelia model trains can be operated at 300 kph (186 mph) or more. Siemens, based in Munich, makes the ICE, which whisks business travelers and tourists between major German cities such as Berlin, Hamburg, Cologne and Frankfurt. Both firms also make equipment for slower regional trains.
The news release said however that the two companies' global business territories were complementary rather than overlapping. Siemens additionally makes medical diagnostic machines and power generation equipment.
The merger is seen as an effort by the European companies to head off tougher competition from giant Chinese railmaker CRRC Corp., which is competing for global infrastructure deals and has annual sales of about $36 billion (30 billion euros).
The deal came on the same day that French President Emmanuel Macron called for deeper European Union integration through a joint budget, shared military force and harmonized taxes.
"This Franco-German merger of equals sends a strong signal in many ways," Siemens CEO Joe Kaeser said in a statement. "We put the European idea to work and together with our friends at Alstom, we are creating a new European champion in the rail industry for the long term."
Poupart-Lafarge said in the same statement that "today is a key moment in Alstom's history, confirming its position as the platform for the rail sector consolidation."
Siemens' news release said that the Alstom board supported the transaction and that the French government added its support in return for employment protections and the agreement to hold the Siemens stake to 50.5 percent for four years. The new company will have 62,300 employees in over 60 countries.
To be implemented, the deal must be approved by Alstom shareholders as well as pass regulatory review, including foreign investment clearance in France. The transaction is expected to close at the end of 2018. If it doesn't go through, Alstom would owe a break fee of 140 million euros.
The prospect of the deal had already provoked criticism in France, especially after Alstom sold its electric power and grid business to U.S. rival General Electric last year in a deal valued at 9.7 billion euros.
An official of France's mainstream right-of-center party, the Republicans, denounced the Siemens-Alstom deal in an interview with the economy daily Les Echoes. "Don't tell us stories. It's Alstom that will be swallowed by Siemens," Xavier Bertrand said ahead of the announcement.
France's far-right National Front party reacted bitterly in a statement as talks were winding up, saying France was selling off its emblematic fast-train industry, a "French flower." Macron defeated National Front candidate Marine Le Pen in May's presidential election.
The deal was announced just weeks after the French government put on hold another heavy industry deal. In August, it froze the planned sale of a majority stake in the Saint-Nazaire shipyard to Italy's state-controlled Fincantieri. French officials said they wanted to protect jobs and proposed limiting Italy's stake to 50 percent.
But the move angered Italy and raised questions about Macron's professed willingness to increase industrial cooperation in Europe.
The two governments later said they would try to find a solution, with a decision potentially to be announced Wednesday when Macron meets his Italian counterpart, Paolo Gentiloni.