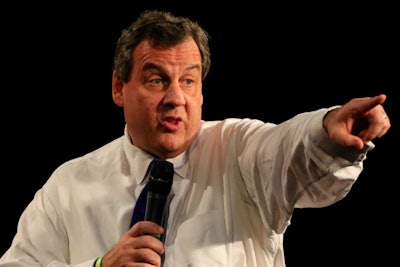 The nationwide competition for Amazon's second headquarters has led Gov. Chris Christie and lawmakers to propose overhauling a program that has awarded billions of dollars in tax breaks to draw businesses to the state.
The changes quickly endorsed Wednesday by Republicans and Democrats in the state Legislature would allow Amazon's HQ2 to use Grow NJ tax incentives anywhere in the state, eliminating a requirement they be used only to attract businesses to some of the state's most economically depressed cities.
States and cities across the country are lobbying the Seattle-based technology giant, which is seeking tax breaks, grants and other incentives to build a $5 billion headquarters that will employ up to 50,000 new full-time employees.
The Democratic and Republican leaders of the state's Democrat-led Legislature said Wednesday they're behind Christie's proposal and asked the Republican governor to include their letter in the state's unified application to Amazon.
Christie also asked the two leading candidates running to replace him in next month's election to back his plan. Republican Lt. Gov. Kim Guadagno quickly said she "enthusiastically" backed his request for a commitment to continue the effort to attract Amazon. Democrat Phil Murphy said a "unified" approach would give the state the "strongest possible proposal," but he did not specify whether he backs Christie's new legislative proposal.
Murphy, a wealthy former Goldman Sachs executive, previously called for New Jersey to pitch itself for Amazon's new home, but he also calls out corporate tax incentives in a new ad, suggesting he's critical of programs like the one Christie is seeking to expand.
Assembly Speaker Vincent Prieto, Assembly Minority Leader Jon Bramnick, Senate President Steve Sweeney and Senate Minority Leader Tom Kean Jr. signed the letter backing Christie's plan. It's unclear if a voting session will be scheduled ahead of Amazon's Oct. 19 deadline for proposals.
While top members of both major political parties were backing the idea, liberal-leaning groups critical of tax breaks were raising concerns about expanding tax incentives and instead suggested broadening infrastructure and education to attract Amazon.
"These are the key factors that can attract Amazon to the Garden State — not further expanding New Jersey's overly generous corporate subsidies, as Governor Christie suggests," said Gordon MacInnes, president of the liberal think tank New Jersey Policy Perspective.
Christie's proposal calls for making changes to what he's cast as a key part of his legacy, the 2013 Economic Opportunity Act. He laid out his proposals in a letter obtained by The Associated Press that he sent to Murphy and Guadagno.
The 2013 legislation included the Grow NJ tax incentive program, aimed at attracting businesses to some of the state's most economically depressed cities, specifically Camden, Passaic, Paterson and Trenton.
Beyond eliminating the geographic limits, Christie's changes also would allow companies to get a $10,000 tax credit per employee, rather than up to $8,000, and allow them to carry tax credits against the state's corporate business tax forward for 50 years rather than 20.
Christie also is also urging a new provision that would allow the sale of tax credits of up to $25 million a year for 20 years when the proceeds are used for infrastructure projects.
More than 200 projects have been approved under Grow NJ, with awards totaling more than $4 billion, according to the New Jersey Economic Development Authority, which oversees the program.