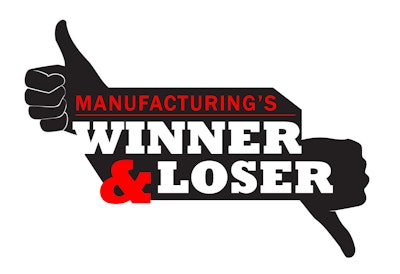 This week's winner is developing a robot to assist with garbage collecting; the loser got caught cheating on emissions tests and had to pay the price. 
Winner
The Volvo Group, along with three universities and waste recycling company Renova, has created a project called ROAR — Robot-based Autonomous Refuse handling. The ultimate goal of the project is to demonstrate the potential relationship between humans and smart machines when it comes to various activities and labor. 
With help from the trucks operating system, and under the truck driver's supervision, the robot will collect the waste and recycling bins and empty them in the truck. The project is expected to be tested with a Renova vehicle sometime around June 2016. 
Autonomous technology is undoubtedly becoming prevalent in many sectors, and though some still remain skeptical, it has distinct benefits. In this case, the benefit is saving the truck driver some time and heavy lifting, but the possibilities are vast. For exploring those possiblities and embracing a growing technology, The Volvo Group and those involved with Project ROAR are this week's winners. 
Loser
It's been a busy week for Volkswagen after it came to light that the company had rigged emissions tests for about 11 million of its diesel vehicles. The revelation came as quite a shock to consumers who had considered VW to be an eco-friendly company. In fact, the VW website directly states such a position: "At home in America and around the world, Volkswagen Group places environmental sustainability at the core of our operating philosophy." 
Following the news, VW's share price dropped down by 18.1 percent. The Environmental Protection Agency earlier this week indicated that the fines could reach more than $18 billion, but a final total has not been announced.
The diesel vehicles had software installed that would turn on during emissions tests to give cleaner results. Once on the road, the software would turn off, giving the cars more power but emitting as much as 40 times the legal pollution limit. 
Former CEO Martin Winterkorn stepped down Wednesday amid the scandal, accepting responsibility for the scandal and saying the company needed a "fresh start," though he was "not aware of any wrongdoing on (his) part."
"I am shocked by the events of the past few days," Winterkorn said in a statement. "Above all, I am stunned that misconduct on such a scale was possible in the Volkswagen Group."
It's not just fines and a drop in share prices VW is facing — it's a lack of trust from its own consumers and a hard hit to its reputation in the auto industry. For that, VW is this week's loser.