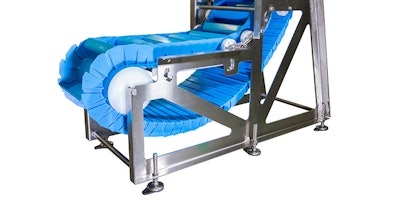 By now, food manufacturers are aware of the FDA's Food Safety Modernization Act (FSMA), and how it's going to affect their business. The FSMA takes a more proactive approach toward food safety by adding safeguards to try to prevent contamination or problems from occurring within the nation's food supply in the first place, rather than relying on a reactive stance to issues after they occur.
The FSMA is divided into five major areas:
• Preventive Controls
• Inspection and Compliance
• Imported Food Safety
• Response
• Enhanced Partnerships
The reasons behind the FSMA are numerous — actually there are about 48 million of them. That's the number of Americans the U.S. Centers for Disease Control and Prevention estimates get sick in the U.S. each year from foodborne diseases. Of that figure, 128,000 are hospitalized and 3,000 die. The CDC and FDA believe that number could be greatly reduced, and FSMA is one vehicle to the help achieve that result.
Preventive Controls affects food equipment manufacturers the most. According to the FDA and outlined within Preventive Controls, the FSMA requires that food facilities implement a written preventive controls plan, including:
• Identifying the hazards that could affect food safety
• Specifying what preventive steps, or controls, will be put in place to significantly minimize or prevent the hazards
• Specifying how the facility will monitor these controls to ensure they are working
• Maintaining routine records of the monitoring
• Specifying what actions the facility will take to correct problems that arise
This is leading food manufacturers to scrutinize their existing equipment closely to ensure it meets sanitary standards. In this day and age, a company cannot afford to cut corners when it comes to sanitary issues — the risks to the company's reputation and to its customers' well-being are just too great.
According to a 2011 study by the Grocery Manufacturers Association that surveyed 36 member companies about the financial recovery aspects due to product recalls, it found that more than half of the respondents (58 percent) had been affected by a product recall event in the past five
years, and from that group, 77 percent estimated the financial impact cost up to $30 million.
While many factors can contribute to a recall, contamination of equipment is typically a prime suspect.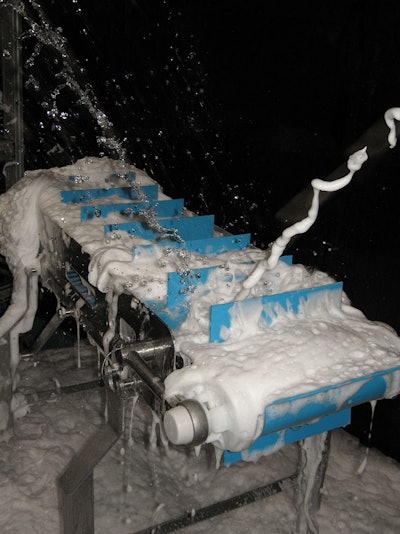 The Role of Sanitary Conveyors
Walk into any food manufacturing facility and you'll see just how prevalent conveyors have become. From the initial stages of processing, through production, packaging and finally shipping, conveyors carry product every step of the way — and can become a major source of contamination if not properly sanitized.
The designs of some conveyor systems, unfortunately, are conducive to harboring bacteria and other contaminants that can find their way into the food manufacturing process. Hidden crevices on the conveyor frame can become catch points and promote the growth of microorganisms. The conveyor system as a whole may not be completely accessible for cleaning as it needs to be, which can affect its level of sanitation.
The challenge facing conveyor suppliers is designing systems that help food manufacturers minimize the risk of contamination, while also augmenting their efforts toward FSMA compliance. For companies considering upgrading their conveyors with a more sanitary system, there are certain things to look for.
Accessibility
The best way to ensure your conveyor system is properly sanitized is to clean it thoroughly. But to accomplish that, you need full access. A well-designed conveyor system gives you that by allowing access to underneath the belt, all sides of the frame, stands, tails and the motor assembly. Nothing remains hidden. Sanitary conveyors should be disassembled and ready for cleaning in less than two minutes.
Frame Design
Small nooks, crevices and fasteners can become catch points for water, food particles and other particulates — which are the perfect breeding environments for bacteria to grow. The solution is eliminating all catch points from the conveyor. This means squared-off edges are rounded to allow water and particulates to run off, while also reducing the number of fasteners required in the food zone for easy cleaning.
Certifications
Other U.S. federal agencies, such as the Department of Agriculture, do offer hygienic certifications for the design of mechanical belt conveyors used in various meat and poultry processing. Additionally, industry organizations such as the Baking Industry Sanitation Standards Committee (BISSC) and 3-A Sanitary Standards Inc., offer their own certifications and stamps of approval on conveyors and related food processing equipment. Selecting equipment with these third-party certifications provides companies with added peace of mind in knowing that it meets those organizations' level of sanitary standards.
New Trends
Sanitary conveyor design is constantly evolving to better meet the needs of the marketplace. Many applications are now calling for product to be moved in a straight-up 90-degree movement. While this type of product flow may not be new to food manufacturers, finding a true sanitary conveyor to perform the task has been a challenge.
Conveyor suppliers are now building platforms specifically to this need. These designs include sanitary staggered sidewall belts to hold bulk product, but yet are easy to clean and allow for quicker replacement of damaged sections than more traditional bucket elevator-type belts. Another important sanitary design feature in these vertical conveyors is open-frame design, which aides in cleaning by giving operators full access to all areas of the conveyor.
Conclusion
These two new design trends found on sanitary vertical conveyors are just a small glimpse into how conveyor suppliers are responding to the needs of food manufacturers. Companies are asking for conveyor platforms to do more than ever by playing an integral role in their food manufacturing processes. But at the same time, these firms, both big and small, need to be cognizant of the guidelines laid out in the FSMA and how it affects the way they conduct business. This is where reputable conveyor suppliers can validate their worth by bringing forth products that make these companies' food handling practices more efficient and, most importantly, extremely safe.