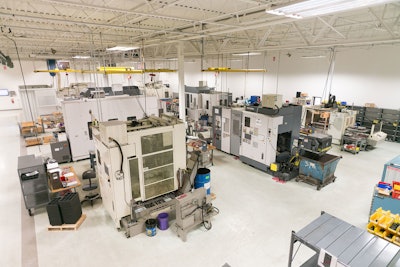 That time-worn adage that says, 'if you do the same thing over and over, you'll probably get the same results,' resonated with Aztalan Engineering Inc. when staff saw the results of a customer satisfaction survey.
When you survey customers about how your operation is doing, the answers may surprise you. Finding out what customers need and expect in today's highly competitive marketplace can lead to company-wide changes.
That was the scenario two years ago when Aztalan, located in Lake Mills, WI, sent a survey to current and potential customers. Respondents indicated they wanted a short turnaround for quotes and short product lead times. Some key customers said they needed a 24-hour turnaround on quotes! In the fast-paced world that includes steadily changing technology and new markets, new customers are the lifeblood of a manufacturing business.
"It was imperative that we make changes," says Aztalan president/CEO Dirk Maroske. "We knew we could do better than what we were doing,"
Looking for New Ideas
Aztalan was founded in 1978 as an engineering company on a nearby farm. Today, it is a world-class precision machine shop specializing in tight tolerances, high quality and complex parts.
Customers are domestic and international with about 90 percent in medical industries developing cancer treatment machines and medical devices — such as vaporizers that provide anesthetic drugs to patients. Other clients are in energy and industrial analytical industries.
"Instead of our typical 10 to 12-week window between quoting and delivery, we were surprised to find every company we surveyed was looking for much shorter lead times. One of our key customers wanted a 1 to 2-week turnaround from product order to delivery," says Maroske. "It was a huge eye-opener. We knew we could reduce our lead times, but the question was how," he says. "We also knew we needed to apply innovative ideas that would free up these gridlocks and diversify the company as we grew."
In 2013, Aztalan Engineering began a companywide transition by reaching out to the Center for Quick Response Manufacturing at the University of Wisconsin-Madison. QRM allows manufacturers to respond quickly, to bring new products to market on time, and to compete in an ever-changing manufacturing environment.
"We turned to QRM because they are experts with real-world ideas for real-world manufacturing," Maroske notes. "With QRM we were quickly motivated to think differently."
They introduced strategies to reduce rush jobs, scale back inventory, overtime costs and unnecessary meetings. They added new customers with short lead times and small quantities. This had a huge impact on cash flow and gave them the flexibility to go after new business opportunities.
By incorporating QRM, Aztalan's revenue from new customers grew by 200 percent while the stockpile of inventory was reduced by $1 million.
Maroske points out the value gained from working with professors and students at the UW-Madison QRM Center. "They helped Aztalan incorporate QRM by educating employees and using analytics to support its implementation. Having the opportunity to engage with them on educational and instructional levels was highly beneficial."
QRM involves a shift from traditional cost-based thinking to time-based decision-making strategies. Sometimes that transition can be difficult for financial managers to justify.
Jessica Treml, Chief Operations Officer at Aztalan, says, "QRM is not just a shop floor exercise; we use it throughout the company to make decisions. We learned how to use it in administration as well as on the shop floor. It was a big change incorporating time-based thinking into financial-based decisions, but the results prove it has been worthwhile."
The company didn't have to change accounting practices. Treml says, "QRM shows you how to move away from cost-based analytics to time-based thinking."
Launching QRM – starting with quoting
Before Aztalan incorporated QRM strategies it was important for employees to believe the change was worthwhile. All employees read It's About Time, The Competitive Advantage of Quick Response Manufacturing by Rajan Suri, Ph.D., QRM founder and Emeritus Professor of Industrial Engineering at the University of Wisconsin-Madison.
When Aztalan was first introduced Maroske, says, "We wanted to make sure the entire organization saw that we were serious about this because we recognized employee buy-in would help drive it."
The management team was 100 percent aligned, but some leaders needed to see some initial success. "We learned when you make changes you have to be flexible," says Maroske. "You need to educate the entire organization on QRM and then select a strategic area like how QRM helped decrease lead time on product quotes and reduce inventory. A successful key sample will show your organization how successful QRM can be throughout the company."
Aztalan invested in computer technology upgrades to move quotes faster. Turnaround time for quotes was reduced from about 14 days to a couple of days.
"From a price perspective, it gave us a competitive edge," says Treml. "By reacting to customers' needs, we found that when you can turn around a quote quickly, you're more apt to get the job, whether it is a new or existing customer."
Aztalan involves complex precision manufacturing with no room for error. Before QRM strategies were in place operators would run volumes as high as 1000 pieces at a time. That led to stockpiling parts that sat in inventory and risked becoming obsolete before they were needed. Now smaller, customized runs might consist of 30–200 pieces, which is far more efficient. QRM strategies helped reduce inventory, saving money on materials that yielded overstocked parts and saving space that would have been taken up to store large runs.
"You get QRM in your head, and even though you may be fighting against traditional wisdom, you start to see why it makes sense," says Maroske.
QRM efforts expand with shop-floor cells
Aztalan implemented its first cell using QRM strategies in 2013, followed by a second cell six months later. A third cell was created in 2014 and a fourth cell was introduced in 2015. In the future the company expects to implement additional cells throughout the company.
Why change into cells? Cells have multiple purposes that lead to achievement of goals. Aztalan found cells have given them a leg up in many ways including a reduction in errors, waiting time, and handoffs, less white space in administration, as well as improved overall communication companywide. What's more, cell efficiencies improved from 6 weeks to 4 weeks, and the short-run cell saw efficiencies improve from a 6-week window of time down to 2-3 weeks.
Like any system-wide change, QRM requires commitment to make the transition from theory to practice. At Aztalan the addition of cellular structures was a highly visual change since employees were no longer working in isolated silos. Now daily cell meetings generate new ideas. More visuals –on-time delivery metrics are posted and updated weekly in the cells. Each of the company's four cells play a strong role in the timely flow of customer orders. With QRM, multiple tasks are completed within the cell.
Increased cross-training, versatility, flexibility
Maroske says employees are more versatile now than they were before QRM was put in practice companywide. Before QRM one person ran one machine. Now with cross-training, one person can operate multiple machines — it gives the company more versatility. If an employee is sick, the cell doesn't shut down or slow down because a member is missing or if there's a bottleneck at one operation, someone cross-trained in that operation can step in to help.
Customized machine work involves complex, precise parts, and it takes a lot time to "prove out" the manufacturing process to your customer. The company has substantially reduced the amount of time it takes to complete these one-off prototype orders this with QRM. These lead time reductions have not only yielded big savings in terms of materials, labor and machine hours, but also had a big impact in attracting new business.
QRM Gains Momentum
Utilizing QRM strategies has been a paradigm shift in thinking about time — how time flows through every corner of a company, and how excess time, multiplied through many operations, can cost a company a significant amount of money.
Aztalan has experienced better results companywide from QRM strategies. Megan Patterson, QRM Project Manager at Aztalan, says, "It has given us the incentive to implement a shift in thinking about time throughout the organization. Not only has QRM helped us resolve a number of issues, it has helped improve communications between team members and cells."
Maroske agrees with that assessment by saying, "We have seen first-hand how QRM works. When we began to see impressive results using time-based thinking, it gave us the incentive to implement QRM throughout the organization. QRM is a process that gains momentum the more you use it."
Today, collaboration has improved across the whole operation. Patterson, explains, "From the front office to the shop floor we have all learned that QRM techniques have value."
They have also learned that people work well together as a team within in a cell. Patterson notes, "You get better accountability of time because the communication is easier and common tools like tagging sheets attached to each cell, help members focus on immediate goals. With QRM there's a strong emphasis on we're all in this together."
Vision for the Future
"QRM is a self-improving process. It is an important part of our journey, our ideas and concepts as we aggressively move forward and consistently improve," says Maroske. "We are a very progressive organization, and QRM has helped us become more competitive in our highly competitive industry
As evidenced that QRM is a journey, the company continues to use QRM to accomplish its goals. They plan to convert the entire organization into cells. The company's two buildings will also be converted into one operation to maximize efficiency. Additionally, they'll introduce secondary operations into cells and continue to improve using QRM techniques.
Thinking intentionally about the future with QRM has ramped up Aztalan's competitive edge.
"One of the key lessons learned with QRM revolves around training," Patterson says. "When you have new learning opportunities, it's important to train everyone. You'll gain more accountability and better metrics when everyone is on the same page."
"Simply put, QRM has made us a better company," adds Maroske. "We will never stop learning and improving with QRM techniques."

Company Profile
Founded in 1978 as an engineering company in a two-car garage outside Lake Mills, Wisconsin
Transitioned into a job shop machine shop doing contract machining a few years later
Moved to Industrial Park in Lake Mills in 1980s and expanded the building in 1990s.
Built second building in 2010. They have 75,000 square feet between both buildings
71 employees
Aztalan became 100 percent employee-owned in 2014.
Results with QRM
Lead time from receipt of purchase orders to delivery reduced from 5-10 weeks to 3-5 weeks. Ultimately, they are looking at a one-week turnaround.
On-time delivery improved from 60-90 percent to 95 percent
Cell efficiencies improved from 6 weeks to 4 weeks. Now there is a higher profit margin on short lead time parts.
Open communication improved
Lot sizes were reduced to find the "sweet spot"
Improved accommodation of customers' needs
Sharyn Alden is a long-time journalist specializing in science, energy, biotech, medicine and health. Her media relations business, Sharyn Alden Communications, Inc. includes clients such as research universities, medical institutions and entrepreneurial and established businesses.
*This case study appeared in Industrial Maintenance and Plant Operation's 2016 May/June print and digital editions.
*This case study was originally created for the University of Wisconsin-Madison's QRM Center and is under their ownership