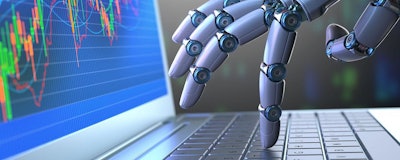 The Industrial Internet of Things (IIoT) is either here now or coming soon to every industrial plant or facility and, if implemented correctly, can improve operations in a variety of areas. The IIoT does this by turning raw data from sensors and other sources into actionable information, and by quickly delivering this information to those who can make the best use of it. This is already being done to some extent in just about every plant. In most cases, existing systems can be greatly improved simply by adding IIoT functionality.
Most industrial plants have one or more human machine interfaces (HMIs) installed and running. These HMIs have typically been PC-based, but are increasingly available on embedded platforms (including non-Windows based) with a much lighter, smaller footprint. These HMIs are a key component when implementing an IIoT solution, making the transition to IIoT not such a massive leap. Instead, it can be a series of smaller and simpler steps.
This article will show how existing and newer HMIs fit into IIoT solutions in industrial plants. It will look at how HMIs can help deliver IIoT benefits such as low-cost connectivity and data aggregation. It will also show how HMIs can enable low-latency and high-availability edge control by smart sensors and industrial controllers, and serve as a data source to extended IIoT advanced information storage and analytics platforms based either on-premises or in the cloud.
The first step is to look at how the HMI has features that simplify IIoT implementations.
HMI Capabilities Required for IIoT Implementations
An existing HMI likely contains many functions and features which can be used when implementing an IIoT solution, including:
Hundreds of drivers to automatically connect to and obtain data from controllers and smart edge devices. Leading HMIs are completely hardware and protocol agnostic, giving users the freedom to connect to any hardware, whether it's an inexpensive sensor or a controller automating a multimillion dollar piece of equipment such as a gas turbine.
The ability to stream real-time process values and plant metadata from those connected controllers and devices, including alarms and events. Data can be sent to on-premises or cloud-hosted industrial Historians to provide high-fidelity, high-resolution and long-term data storage and analytics.
It can turn raw data into actionable information by providing real-time insight. For example, an HMI can monitor and filter a temperature reading, and alert plant personnel when it goes beyond pre-defined high or low boundaries. When combined with industrial historian capabilities and information clients, plant personnel can access and act upon information more readily to analyze production patterns for improved efficiency.
An HMI securely delivers information and prompts for remedial actions to any device connected to a plant intranet or the internet including laptops, PCs, tablets, smartphones and even wearables.
Appropriate security protocols and policies manage the confidentiality, integrity and availability of plant protected data.
The Expanded Role of HMIs
Historically, HMIs were often the software focal point of industrial control systems because they provided all the necessary capabilities required to monitor a plant and manage a process.
But today and going forward, the classic set of HMI capabilities as a stand-alone application is not enough for a factory of the future to stay competitive, differentiated and relevant. Instead, it's important to recognize the new role HMIs should play, considering the increasing number of applications plant operators must monitor across the information technology (IT) and operational technology (OT) spectrum; the rapid growth of connected devices; and the explosive growth of complementary cloud services.
HMIs must now add to their traditional capabilities by:
Providing a simple way to further extend device connectivity to industrial application software platforms and information management systems, both on-premises and in the cloud. This delivers a greater return on process information. This combination, along with hybrid deployment of on-premises HMIs for local edge control with cloud-based data storage and advanced analytics, is the key to advanced IIoT implementations.
Providing more flexible options in terms of pre-production deployment testing, validating, collaborating, training and process simulations. This is done by rapidly deploying pre-configured HMI templates in the cloud. These templates provide a starting point for HMI configurations, enabling rapid use and providing cost containment. Templates can be easily exported or replicated on-premises.
Expanding their scope of information presentation by dynamically linking contextually-linked applications spanning the IT and OT spectrum to give operators a single and coherent yet holistic view of their process, facility and assets.
Hybrid HMI/IIoT Implementation
A hybrid HMI implementation combines an on-premises HMI with cloud-based storage and data analytics to unlock plant data by making information more easily accessible to a greater number of people (Figure 2). This provides improved actionable information (insight) so personnel can make better and faster data-driven decisions.
Advanced analytics can take both real-time and historical data, and turn it into proactive alerts and intelligent recommendations to optimize plant productivity and machine-level reliability.
Cloud-based implementations of advanced analytics and data storage:
reduce on-premises capital expenditure costs with less hardware investment up front
automatically stay current with all upgrades and security updates
provide more frequent improvements in a non-disruptive manner with little to no downtime without any required end user effort.
provide automatic data backups across multiple data centers
can provide greater security by tightly controlling access. On-premises installations can in theory provide this level of security, but it is typically more difficult because local users can gain unauthorized access via a variety of means.
depend on reliable high-speed connections to the Internet, but this is becoming less of an issue as these connections become more reliable, and as HMIs add data buffering and offline capabilities
provide easier integration with suppliers and partners, and to other business applications and processes. As more computing activities move to the cloud, this will become even more of an advantage for cloud-connected HMIs.
ease workforce transition as aging workers retire by avoiding dependence on a relatively small number of on-premises IT employees (sometimes only one) who are familiar with all the nuances of the on-premises HMI installation.
Conclusion
End users in industrial plants and facilities can use existing HMIs to expand connectivity by adding connections to more devices and controllers, and to the cloud. This is done by using an HMI's built-in protocol support to talk to devices and controllers, and by using emerging IIoT protocols for cloud communications.
This expanded connectivity can allow HMIs to combine traditional data sources with additional industrial application software and information management platforms to provide improved insight, even proactively in some cases. This provides opportunities to evolve HMIs and present a more holistic and contextually-linked set of applications to better represent entire plants and facilities across the IT and OT domain.
Finally, end users can take advantage of industrial cloud services for greater flexibility in pre-production activities, and to derive additional value once deployed.
Saadi Kermani is a Global Business Development Manager at Schneider Electric Software.