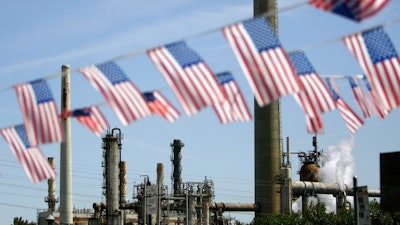 Two California cities alleged in lawsuits filed last week that five major oil companies knowingly contributed to greenhouse gas emissions — and sought billions for related environmental problems.

The complaints, filed separately by the cities of San Francisco and Oakland, argued that BP, Chevron, ConocoPhillips, ExxonMobil and Shell not only extracted and developed oil, natural gas and other fossil fuels, but knew about their potential impact on the climate since at least the early 1980s. The cities also alleged that the companies sought to deny or discredit warnings from climate scientists.

The San Francisco Chronicle reports that the lawsuits mirror those filed against tobacco companies over the health risks of cigarette smoking in the 1990s. The filings characterize the actions of the oil companies as a public nuisance and call for damages to help pay for property damage, coastal erosion and past and future flooding caused by rising sea levels.
"The bill has come due," San Francisco City Attorney Dennis Herrera told the paper. "It's time for these companies to take responsibility."

Two Bay Area counties and a city outside San Diego filed a similar legal challenge earlier this year. Legal experts told the Chronicle that although past efforts to link companies to climate change were ineffective, court challenges were likely to grow as science becomes more advanced and political options to curb carbon emissions remain limited.

Courts could also be more likely to listen as the costs of climate change come into focus. San Francisco, for example, expects to pay about $5 billion in long-term costs to fortify a seawall against rising ocean levels.

The companies and a top industry group defended their efforts to address climate change but argued that the claims were without merit.

"Chevron welcomes serious attempts to address the issue of climate change, but these suits do not do that," spokeswoman Melissa Ritchie wrote to the paper in an email. "Reducing greenhouse gas emissions is a global issue that requires global engagement and action."