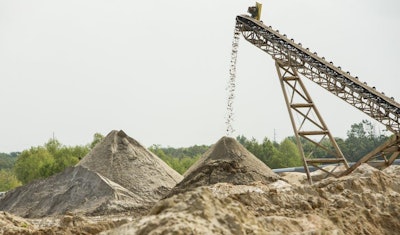 The collapse of oil prices in late 2014 severely dented the burgeoning shale oil sector in Texas and other regions of the U.S.

But those struggles could pave the way for more economical hydraulic fracturing operations in West Texas.

In the wake of lower oil prices, The Wall Street Journal reports that fracking companies in the state's Permian Basin figured out how to use a different variety of sand in their drilling operations — sand that's widely available in the nearby desert.
Fracking involves pumping a high-pressure combination of sand, water and chemicals underground to crack shale formations and harvest the oil or natural gas contained within. The boom in the technique was fueled by a coarse sand, known as frac sand, commonly found in the Upper Midwest.

Although oil prices stabilized in recent years, sand mines in Wisconsin, Illinois and elsewhere continue to struggle. Those companies maintain that frac sand will play a role in fracking in Texas and other shale regions, but analysts suggest that a local sand supply could be a game-changer in West Texas.

The Journal reported that 18 sand mining projects are either proposed or under construction near Midland, Texas. Analysts say it's unlikely that all 18 will ultimately be built, and note that the nascent industry faces numerous logistical hurdles, including a limited supply of labor, water and heavy-duty trucks.

But those mines that do open are likely to curb sand prices — and further benefit fracking companies that would already save the significant cost of shipping sand in from northern states.

"Local sand is a huge disrupter that is beneficial to the shale producers," Bud Brigham, a fracking industry giant funding the under-construction Atlas Sand Co., told the paper.