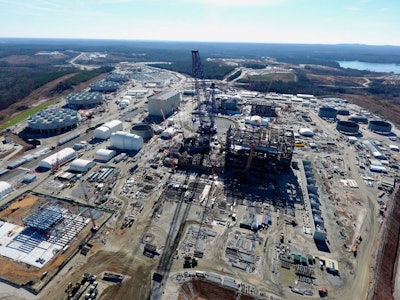 An abandoned multi-billion dollar nuclear power construction project shouldn't be sold off for parts because it will be completed someday, the retiring CEO of a South Carolina utility that invested in the project told state senators Monday.
Santee Cooper CEO Lonnie Carter questioned whether it makes sense to sell parts off for a portion of what they're worth, to reduce debt now, only to have to buy them at full cost later.
"I caution us not to walk away from this investment," said Carter, who announced his retirement last month.
The state-owned utility and private South Carolina Electric & Gas abandoned construction of two new reactors at V.C. Summer Nuclear Station on July 31 after jointly spending nearly $10 billion. Utility executives have said nearly all of the components needed to complete them are at the site, about 30 miles north of Columbia.
Whether to sell them is up to the utilities, though Santee Cooper has less say as the minority owner.
Kevin Marsh, CEO of SCE&G's parent company SCANA, said his company has not yet decided.
An estimated $11 million to $15 million annual cost to keep the assets includes warehousing, security, and maintenance, according to the utilities.
While it doesn't make fiscal sense to finish now, factors such as increased gas prices and regulations on carbon-producing plants may change the equation in a decade, Carter said.
Even if customers' energy needs don't increase substantially, old plants will retire, he said.
And estimated construction costs could come down if other reactors of the same design come online, he said. Reactors based on the same design are being built in China and in Georgia, though the Georgia project's fate is in doubt.
Utility executives continued Monday to blame lead contractor Westinghouse, which owns the design, for the failure of South Carolina's project.
Westinghouse declared bankruptcy in March, voiding a fixed-price contract negotiated in 2015 to control escalating costs. Utility executives insist they were forced to give up after a post-bankruptcy-analysis determined the price tag for completing the project — budgeted at $11 billion in 2008 and last approved by state regulators at $14 billion — had actually soared beyond $20 billion.
Santee Cooper's customers would face at least a 41 percent rate hike to pay for finishing it, Carter said.
The utilities' customers have already paid more than $2 billion on the now-scuttled project through a series of rate hikes since 2009, which covered interest costs on financing. The partly built reactors account for 18 percent of SCE&G customers' electric bills.
Sen. Brad Hutto, D-Orangeburg, said customers should no longer have to pay that.
"We've got ratepayers, some on fixed incomes, now obligated to pay an increased rate for something they'll never get," Hutto said.
A 2007 state law allows SCE&G to recoup its debt from customers as long as regulators deem the spending prudent. Under a plan filed with regulators in August, then withdrawn amid legislative hearings, the utility sought permission to recoup $4.9 billion over 60 years, with at least $2.2 billion of that coming from customers' bills.
Even as the percentage of customers' bills paying for the failed project declines, customers won't see lower bills. Marsh said SCE&G won't lower rates because the money's needed "to keep the system in operating condition."
Senators questioned why the utilities didn't fire Westinghouse years ago.
SCE&G began returning invoices as deficient in 2011 and, after years of ever-evolving schedules and supply-chain problems, directly withheld payments in 2014, said SCANA chief operating officer Stephen Byrne.
"I gave up on them in 2014," Carter said. "I didn't give up on the project. I gave up on the truth coming out of our contractors."
Senate Majority Leader Shane Massey, R-Edgefield, asked Carter if he felt pressured to continue.
Carter said he knew there needed to be strong proof for ending the politically popular project.
"No elected official said, 'You've got to go do this,'" he said. "People felt like these were important to the state and encouraging us to get it done."