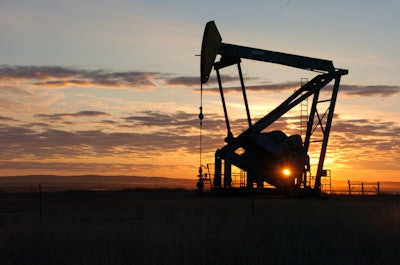 Global analysts expect American oil production to decline both this year and next before rising to a new record high in five years.

The annual report by the International Energy Agency estimates that domestic oil output will fall by 600,000 barrels per day in 2016 and by another 200,000 barrels per day in 2017.

The forecast, however, expects the global oil market to begin rebalancing in the latter year. A gradual increase in oil prices, along with additional cost-cutting and increased efficiency among U.S. producers, will lead to improved production numbers.

U.S. oil production is projected to reach 14.2 million barrels per day — an all-time record — by the end of the report's forecast period in 2021.

The U.S. alone will account for more than two-thirds of net oil production increases among non-OPEC nations.
The IEA report said that the global oil supply should increase by just more than 4 million barrels per day between 2015 and 2021 due to sharp cuts in upstream oil investment amid plummeting crude prices. During the previous six-year window, the supply jumped by 11 million barrels per day.

Analysts said that upstream spending is expected to decline by 17 percent this year, which would mark the first consecutive annual declines in 30 years.

As a result, the ability to quickly capitalize on rebounding prices will be limited, and insufficient investment could increase the chances of a price spike heading into the next decade.

"It is easy for consumers to be lulled into complacency by ample stocks and low prices today, but they should heed the writing on the wall," said IEA Executive Director Fatih Birol. "The historic investment cuts we are seeing raise the odds of unpleasant oil security surprises in the not-too-distant future."

The report expects oil demand worldwide to increase at an average rate of 1.2 million barrels per day through 2021 and cross the symbolic 100 million barrel per day threshold before 2020.

Although the global oil trade will continue to move toward Asia and demand in India should accelerate, Chinese demand should lag due to a sluggish economy.

Among OPEC nations, Iran is expected to lead in production growth due to the lifting of international sanctions.