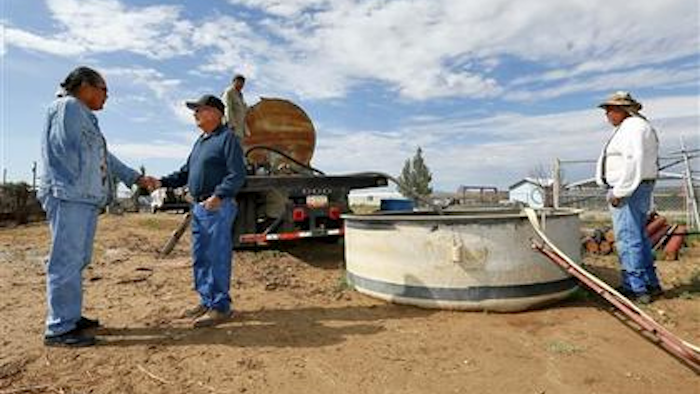 A temporary treatment plant has begun cleaning up polluted water flowing from the Gold King Mine in Colorado after an accident sent millions of gallons of waste into rivers in three states, the Environmental Protection Agency said Monday.
The plant is running 24 hours a day and processing up to 800 gallons per minute, including waste discharging from the mine and water stored in ponds, the agency said.
An EPA-led cleanup crew inadvertently released a surge of about 3 million gallons of water tainted with heavy metals from the inactive mine on Aug. 5 when heavy equipment breached a debris dam.
The Animas and San Juan rivers in Colorado, New Mexico and Utah were polluted by the spill, which discolored the rivers with a mustard-colored plume visible for miles downstream.
The Southern Ute Reservation and Navajo Nation were also affected.
Cities shut down water plant intakes and farmers closed irrigation canals until the plume passed. The EPA says water quality has returned to pre-spill levels, but some farmers have been reluctant to resume irrigating from the rivers.
Before the spill, wastewater was flowing from the mine at 12 to 250 gallons per minute. Afterward, the rate was about 560 gallons per minute, the EPA said.
Engineers are still adjusting the treatment plant but it appears to be operating well, the agency said.
The $1.8 million plant costs about $20,000 a week to operate and is scheduled to run for up to 42 weeks while the EPA reviews longer-term solutions.
The agency said it has now spent nearly $14.5 million cleaning up after the spill.
The EPA said it has been discussing possible long-term cleanup plans with Colorado and local officials but the solution will be complicated. The mountains around the mine are riddled with inactive mines, and many have been spilling polluted water for decades.