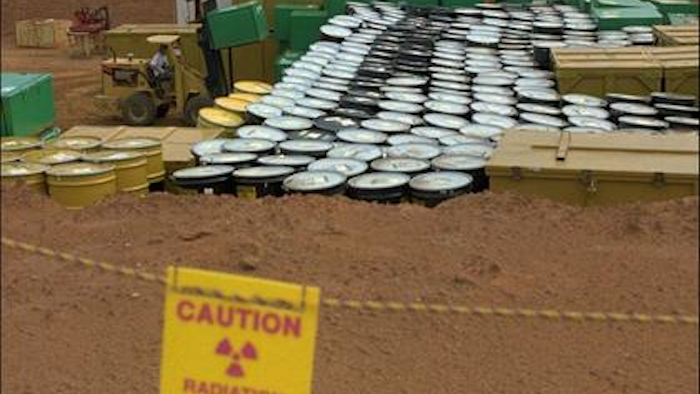 Several state agencies that responded to a fire at a radioactive waste site in rural southern Nevada were testing air quality and checking for any other problems Monday after the flames were extinguished.
No injuries have been reported since the fire ignited Sunday afternoon in an industrial area near Beatty, Nevada, about 115 miles northwest of Las Vegas, said Bud Marshall, southern Nevada regional supervisor for the state Division of Emergency Management and Homeland Security.
It is not clear how the fire started at the shuttered disposal site, which is about 8 miles from populated areas. Authorities say the site accepted low-level radioactive waste for 30 years, which can include tools, protective clothing, machine parts from nuclear plants and other items.
Officials were monitoring air quality, Marshall said, but he had no immediate information about the results. No spills or air quality risks have been confirmed, Nye County sheriff's Sgt. David Boruchowitz said.
Initial reports indicated that the fire had started at a U.S. Ecology plant, but the company said a nearby disposal area for low-level radioactive waste is where the flames ignited and is controlled by the state Department of Health and Human Services.
The company had operated the disposal site from 1962 until it closed in 1992, according to the nonprofit Nuclear Resource and Information Service in Takoma Park, Maryland.
The state health department and governor's office could not immediately provide further details.
U.S. Ecology spokesman Dave Crumrine said the fire started about 1 p.m. Sunday and that the company reported the fire, which is in line with its emergency reporting plans. He said no evacuations have been ordered.
Gov. Brian Sandoval said he called in the Nevada National Guard and activated the state Emergency Operations Center in Carson City to coordinate the response among agencies.
Several roads have also been closed, in part because of a heavy rainstorm that hit southern Nevada on Sunday. The Nye County School District shut its two schools in Beatty because of the fire, while Amargosa Valley Elementary/Middle closed because of road conditions. The closures affected about 400 students in the rural county.
The site of the fire is about 10 miles south of the small unincorporated Nye County town of Beatty. U.S. Geological Survey studies in 1994 and 1998 found high concentrations of radionuclides underground, the Nuclear Resource and Information Service said.
Tritium was detected more than 350 feet below ground, and carbon-14 was found more than 110 feet below ground, which are radioactive isotopes of hydrogen and carbon, respectively. Radiation exposure generally can cause cell damage and increase the potential for some cancers.
Low-level waste is solid material that can be transported under U.S. Department of Transportation and Nuclear Regulatory Commission regulations. Such material does not include used nuclear fuel from nuclear power plants or waste from U.S. defense programs, according to the Nuclear Energy Institute, an industry lobbying group.
It can include water purification filters and resins, tools, protective clothing and plant hardware such as steam generators from nuclear plants. It can also include medical items and protective gear that have come in contact with radioactive materials, glass and plastic laboratory supplies, and machine parts and tools.