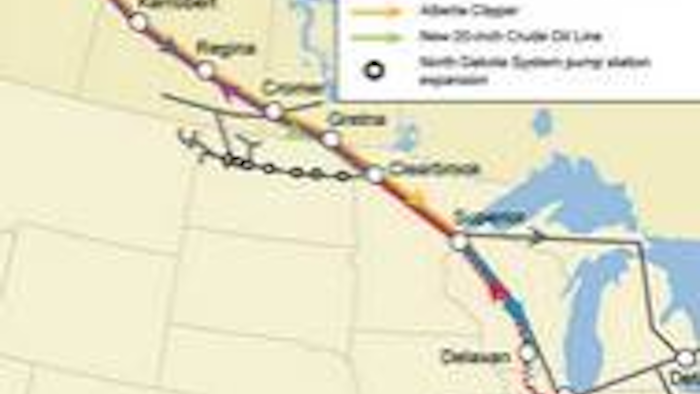 A Canadian energy distributor hopes to dramatically expand a pipeline carrying crude oil across the state of Wisconsin — increasing its capacity beyond that of the far more publicized Keystone pipeline.

But concerns over the company's safety record and the consequences of a potential spill have stalled the project in Madison.
 
Zoning officials in Dane County — who oversee property issues in the state's capital city and surrounding communities — delayed a vote this week on proposed permit for Enbridge to construct a pumping station in a rural area east of Madison.

New pumping stations would allow the company to more than double the current capacity of Line 61 from 560,000 barrels per day to 1.2 million. The line is one of four Enbridge that route crude oil from Canada's oil sands to terminals in Illinois.

Eleven other Enbridge permits have been approved along the route through Wisconsin, but officials in Dane County have not reached a deal over insurance to cover potential oil spill damages.

The company said it has standard coverage for $700 million and has offered to include Dane County for up to $100 million. The zoning committee chairman, however, postponed a vote so officials could evaluate the proposal and pipeline risks.

Meanwhile, environmental advocates in the liberal stronghold of Madison have voiced opposition to the expanded pipeline altogether, citing its impact on carbon emissions and noting Enbridge's previous safety issues, including a massive 2010 oil spill in Michigan's Kalamazoo River.

The company responded that it is disappointed in the delay and has "taken significant steps to reduce those risks."

The controversy continues the nation's dilemmas in addressing the dramatic increase in oil production from fracking in recent years.

The proposed Keystone pipeline between Canada and Gulf Coast refineries continues to pit environmental and business interests in Washington against each other, though at 860,000 barrels per day, it would carry less crude than the expanded Enbridge line.

Meanwhile, five oil and gas pipelines across the country have ruptured this month alone — the largest of which dumped more than 3 million gallons of fracking byproduct into two North Dakota streams.