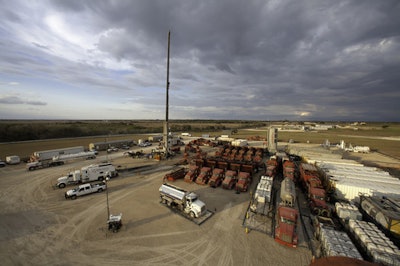 Last fall, the Wall Street Journal reported that a small Wisconsin private equity company turned a $91 million investment into a $1.4 billion fortune when it invested in a mine producing fine silica sand suitable for use in hydraulic fracturing. Energy companies mix the sand with water and additives, pump it down wells, and use the grains to prop open cracks in underground shale rock formations and allow oiland gas locked inside to escape.
It can take up to 275 truckloads of sand to stimulate a single well, but the rising demand for the material isn't the only challenge for the booming energy sector. All those truck trips and diesel emissions can be vexing for local communities. "These are often small country roads and all that traffic creates a lot of disturbance, not to mention it being a significant business cost," says BruceTocher, research and development manager for shale oil and gas at Statoil, theNorwegian energy company. "We'd like to find a new way to open up the rock. Weneed a new alternative."
Statoilis leaving little to chance. This week, the company launched a collaboration withGE to speed up the development and application of more sustainable and economic solutions for the production of oil and gas. The two companies also launched an open innovation challenge looking for innovative ways to replace or reduce the amount of sand and water used in hydraulic fracturing operations. "The challenge of achieving more efficient and sustainable energy production is too large for one entity to address alone," said Eldar Sætre, president and chief executive officer of Statoil.
The online open innovation platform NineSigma is hosting the challenge and anyone can pitch ideas. The challenge will start by focusing on the use of sand, followed by a stage seeking to reduce the need for water in hydraulic fracturing. "We want to reduce the need for trucking and thereby lessen its local impact," Tocher says. "The alternative to sand could be a new type of lighter, more permeable material that allows oil and gas to flow freely out of the rock."
Statoil and GE are already capturing and compressing natural gas produced from oil wells, which would otherwise be flared due to a lack of local infrastructure or market. This project alone could reduce the equivalent of 120,000 to 200,000 tons per year of CO2 emissions in North Dakota's Williston Basin alone, the sponsors estimate.
They are also exploring the use of liquid CO2 as a partial replacement for water in fracturing shale, reducing the need for water. CO2 could also create more complex fractures, boosting well productivity. "The collaboration we are announcing today with Statoil brings together two leading technology players, and allows us to leverage our global network of engineers and technologists to make a profound impact on the development of energy solutions that reduce environmental impacts," said Jeff Immelt GE chairman and chief executive.
The first challenge opened on Jan. 28 and will close on April 28, 2015. Up to five winners will be awarded an initial cash prize of $25,000 each, with an additional $375,000 available as a discretionary prize pool of development funds. The winners will be announced in June 2015.
For full challenge terms and conditions, please go here.
For more stories like this, visit GE Reports.