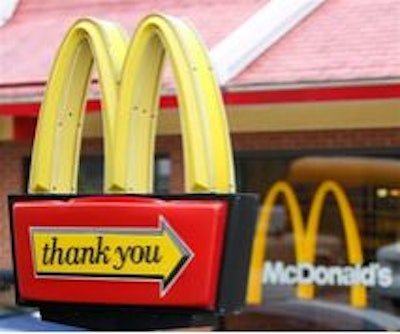 In his standup special, "Mr. Universe," Jim Gaffigan quips about the disappointment we all feel when chowing on McDonald's french fries and realizing they're all gone: "Sometimes there's a loose fry in the bag … You know the bonus fry? It's like Jesus is up in heaven [saying], 'Give him an extra fry.'"
But as much as we love our fries, those twin golden arches have long been the target of criticism — from health concerns about the high caloric content of McDonald's menu to the unsavory rumors about chicken nuggets made from "pink slime" and chemical-ridden meats that never spoil.
So a few months ago, the mega food chain began rolling out videos as part of a "Our Foods. Your Questions" marketing push that cleverly showcases former "MythBusters" co-host, Grant Imahara, doing some myth-busting about how their food is made.
Question is: When it comes to their fries, will this transparency campaign only throw more cooking oil into the fire?
To reveal what their fries are made of, Imahara visited a fry processing plant and traced that irresistible French fry from its final form back to its birthplace — a potato farm — to reveal that they are indeed made from honest-to-goodness spuds. But in another video, Imahara went on to list all of the ingredients of french fries — all 19 ingredients, in fact.
The list includes several different kinds of cooking oils and preservatives, as well as antioxidants and anti-foaming agents.
Chemicals on the list include dimethylpolysiloxane, sodium acid pyrophosphate, and tertiary butylhydroquinone (TBHQ) — which are all FDA-approved. So to end the clip, Imahara says, "At the end of the day it's not a 'Franken-fry' composed of chemicals — McDonald's french fries are made from potatoes."
But that may be a hard message for many to remember after seeing that list of 19 ingredients.
After its release, many were quick to point out that the ingredients list for french fries is much shorter in the UK (as well as other countries), where they only use potatoes, an oil blend, dextrose and salt — UK customers can even choose to omit the salt.
So for many, the comparison only raised more questions about the fry ingredients, such as: If these ingredients aren't used in the UK, why are they needed here?
Others have noted that TBHQ is a petroleum-based chemical, and that dimethylpolysiloxane (an anti-foaming agent in the oil that Imahara says has "been approved for use in many other foods") is a silicon-based polymer that's also used to make Silly Putty. Though approved for use in foods, plenty of bloggers have raised questions about the safety of these chemicals in high doses.
Not to mention that at a time when "all-natural" is all the rage in food production, it's hard not to wonder if knowing exactly what's in a fry will suit American's changing consumer tastes?
Then again, knowing about all the salt and calories in McDonald's fries hasn't kept most of us from "Lovin' It." So maybe most will continue to give a "What can you do?" shrug and have another fry.
Again, Gaffigan sums up American's love-hate relationship with McDonald's best: "Fries are amazing ... For what, like seven minutes? And then they turn into something that's likely not bio-degradable. You ever make the mistake of reheating McDonald's fries in the microwave? They become packing peanuts.
"[But] it doesn't stop you from eating them."