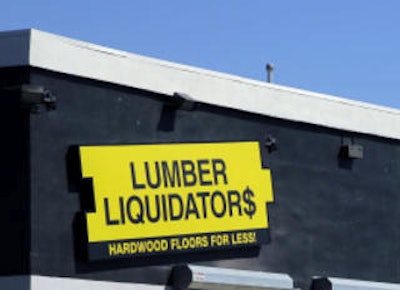 The U.S. Consumer Product Safety Commission said Wednesday it is investigating Lumber Liquidators Chinese-made laminate flooring following a national TV broadcast raised concerns over levels of formaldehyde.
Chairman Elliot F. Kaye said Wednesday the agency is taking the issue seriously and is working to get answers for consumers, but it's too early to tell whether any flooring would be recalled.
"As a parent of young children, I completely understand and share the strong desire that parents and other consumers have to know as soon as possible whether these products present a health risk," Kaye said.
It'll likely be months until there will be some have "some sense of the answers," he said, and the science "does not often provide the clarity" where consumers will know immediately whether they need to take action.
The agency is working with other federal organizations such as the Environmental Protection Agency, the Centers for Disease Control and Prevention, as well as the Federal Trade Commission.
The move comes after a report on CBS' "60 Minutes" earlier this month that said that Lumber Liquidators' laminate flooring made in China contains high levels of formaldehyde, a carcinogen. Democratic Sen. Charles Schumer of New York and Sen. Bill Nelson, D-Fla., have both called for investigations following the broadcast.
The Toano, Virginia-based discount hardwood flooring retailer has said it complies with applicable regulations for its products, including California standards for formaldehyde emissions.
In a recent email statement, Lumber Liquidators said that it wants to reassure consumers that its flooring is safe, and it looks forward to addressing the issues with the Consumer Product Safety Commission and other regulatory agencies and lawmakers who have questions about its products. On Wednesday, the company said it is fully cooperating and already has provided a significant amount of testing and safety information to the agency.
Kaye said the investigation is focusing only the Chinese-made laminate at this time but could expand the investigation if the agency finds reason to do so. The testing will be a method that most closely replicates how the flooring is used in homes, he said.
The company's executives also have criticized "60 Minutes," saying that the television program "distorted the facts" and used a test for its report that was not a "real-world" test. The Federal Wood Industries Coalition said earlier this month that "deconstructive testing" removes a coating on laminate flooring that helps to reduce formaldehyde emissions and that the testing method is not required to meet California standards.
Lumber Liquidators Holdings Inc. has more than 350 locations in North America.
Shares of Lumber Liquidators have dropped 59 percent since Feb. 24, when it announced that the "60 Minutes" segment would air and said the federal government might file criminal charges against the company.
Its shares rose $1.91, or about 6.6 percent, to $30.74 in morning trading Wednesday.