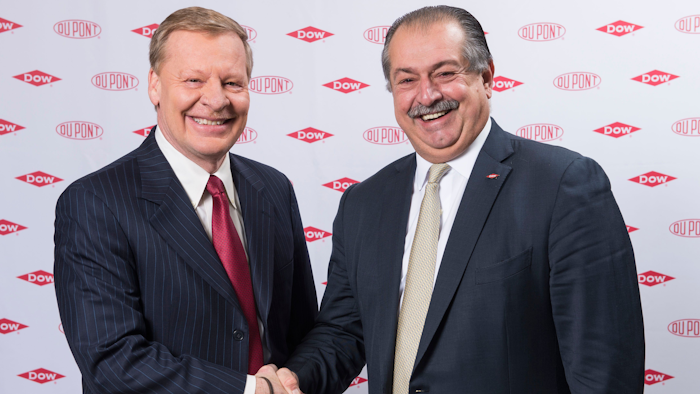 Dow Chemical Co. and DuPont Co. have released the value of the "golden parachutes" for each company's CEOs.
According to reports filed with the U.S. Securities and Exchange Commission, Dow CEO Andrew Liveris will receive $52.8 million in cash, stock and tax reimbursement if he steps down by his planned date in 2017. The filing noted that Liveris would have received all but $13 million of that total even without the coming mega-merger.
If DuPont CEO Edward Breen — who has not announced his retirement — also leaves by 2017, he'll walk with $27 million.
The disclosure comes as both companies are in the midst implementing $3 billion worth of cost-cutting measures and mass layoffs. DuPont alone has a $700 million cost reduction and restructuring plan that includes layoffs for 1,700 research scientists, technicians, managers and others in Delaware.
In the filing with the SEC, the companies said the U.S. Department of Justice Antitrust Division has requested additional information and documentary material to review the merger. The companies said they would "respond promptly" to the request, but it could slightly delay the merger, which is slated to be finalized later this year.
The Dow-DuPont merger will be worth $130 billion. After merging, the companies plan to split into three separate entities focused on agricultural chemical, material sciences and specialty chemicals.