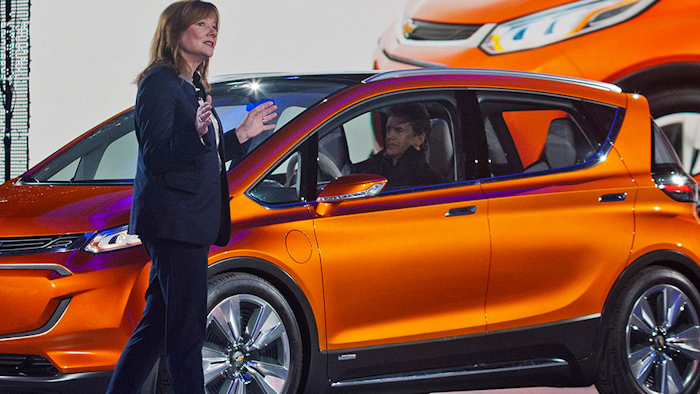 General Motors is now making its first electric vehicle capable of traveling more than 200 miles on a single charge.

Company officials said that production of the 2017 Chevrolet Bolt officially began late last week at its plant in suburban Detroit.

The next edition of the Bolt, as previously announced, features a range of 238 miles and will cost about $37,500 before a $7,500 federal tax credit for electric vehicles is factored in.
The hatchback will initially go on sale in California and Oregon in coming weeks before expanding to the rest of the country next year, according to the Associated Press.
Currently, electric vehicles with 200-mile ranges belong almost exclusively to Tesla Motors.

The Bolt is the first such vehicle to target the mass market, but it's unlikely to be alone for long. Tesla expects to debut its mass-market Model 3 sedan — at a starting cost of about $35,000 before government incentives — next year.

Analysts also noted that despite its lower price, the Bolt remains unlikely to dramatically shift the U.S. market toward electric vehicles as gas prices remain relatively low. Forecasters predict nearly 30,000 Bolts will be sold in its first  year; about 235,000 electric vehicles are currently on the nation's roads.

GM officials, however, touted the vehicle as the first economical plug-in electric that won't make commuters nervous about running out of power on their way to work and back.

The Bolt also accelerates faster than a normal car and features tight handling and a quiet ride, the AP noted.

Chevrolet, in addition, pointed out that its dealerships will be equipped to sell and, importantly, service the hatchback. Tesla, which sells directly to consumers, doesn't have service centers in every state.

"It becomes just a mainstream vehicle choice," Bolt product manager Darin Gesse told the AP.