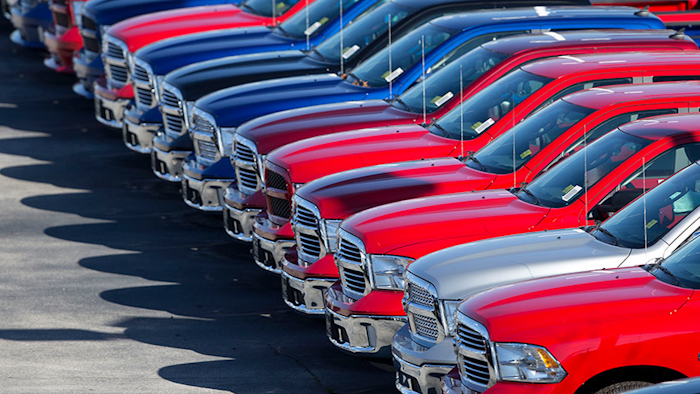 The top auto companies in the U.S. each reported lower October sales compared to the same month of 2015 in their latest sales disclosures.

General Motors and Nissan each reported declines of about 2 percent, while Toyota sales fell by nearly 9 percent and Fiat Chrysler sales slid by 10 percent.

GM attributed its October decline to rental sales and said that sales to retail customers climbed despite two fewer selling days compared to the previous October.

"Based on initial estimates, GM outperformed the entire U.S. retail industry by a wide margin," the company said in a statement.

Chevrolet, GM's largest brand, saw slightly lower sales, while GMC and Cadillac fell by 6 percent and 9 percent, respectively. Buick sales increased by 7 percent.

Nissan said that sales of its crossovers, trucks and SUVs set an October record last month. Although sales of Nissan vehicles fell by 2.5 percent, sales of its luxury Infiniti brand increased slightly.
Honda also benefitted from strong sales of larger vehicles as gas prices in U.S. remain low. Honda's trucks set a new October sales record, which helped keep held the automaker's sales decline at just more than 4 percent despite a 20 percent slide by its Acura brand.

Sales of both Toyota cars and its Lexus brand fell last month, while every FCA brand except for Ram trucks declined in October.

Those five automakers, along with Ford, accounted for more than 75 percent of the U.S. auto market in September, according to The Wall Street Journal. Ford plans to release its October numbers later this week after a fire at its Dearborn, Mich., headquarters late last week.

Volkswagen's U.S. sales, meanwhile, fell by nearly 19 percent last month compared to October 2015, which was the first full month after the disclosure of its diesel emissions scandal by the Environmental Protection Agency.