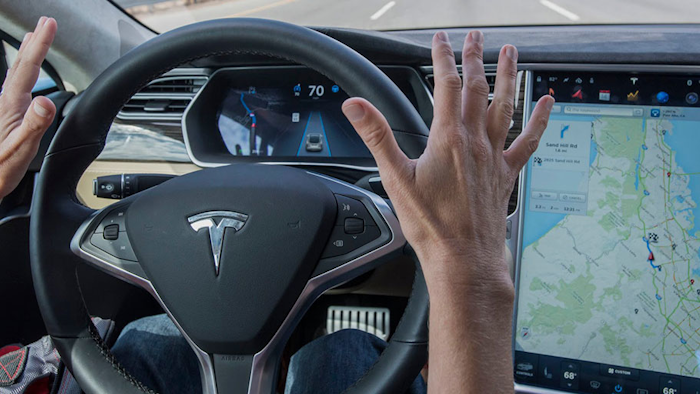 Federal highway authorities are examining how Tesla's semi-autonomous "Autopilot" system reacts to obstacles in its path in the wake of the first fatal crash involving the technology.

The National Highway Traffic Safety Administration sought information about the system from the electric vehicle manufacturer in a nine-page letter published Tuesday, the Associated Press reports.
The inquiry includes questions about Autopilot's behavior at intersections and how it detects and addresses problems with its cameras or sensors.

The cameras on Joshua D. Brown's Tesla Model S failed to identify a tractor-trailer turning in front of him on a Florida highway in early May. Brown, a former Navy SEAL and tech entrepreneur from Ohio, was killed when the Autopilot-engaged Model S collided with the trailer.

NHTSA also asked for all complaints and lawsuits about problems with Autopilot's automatic braking, along with details of all known crashes -- including a reconstruction of the Brown crash.

The company has until Aug. 26 to comply with penalties of $21,000 per day up to $105 million if it does not. The agency classified the request as "routine," according to the AP.

Tesla said that although a collision on Autopilot was a "statistical inevitability," the system overall had a strong safety record and attributed the accident to "a semi-tractor trailer crossing both lanes of a divided highway in front of an oncoming car."

"There is no evidence to suggest that Autopilot was not operating as designed and as described to users," the company said in a statement.

The National Transportation Safety Board also launched its own investigation in hopes of addressing "systemic issues" with driverless cars rather than specific problems with Autopilot.