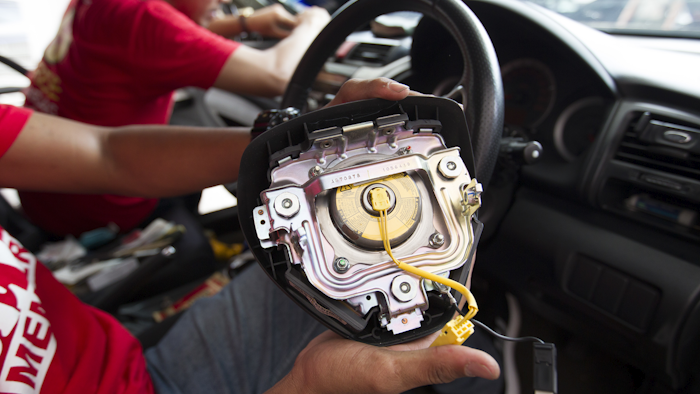 A Delaware bankruptcy judge on Wednesday temporarily halted the prosecution of lawsuits filed by Hawaii, New Mexico and the U.S. Virgin Islands against Japanese auto-parts supplier Takata over its lethally defective air bag inflators.
Judge Brendan Shannon ordered the 90-day stay after hearing arguments last week on Takata's request to halt hundreds of air bag-related lawsuits while it works on a reorganization plan. Takata sought a six-month halt to various lawsuits while it proceeds with its restructuring efforts, which include the planned sale of most of its assets to a Chinese-owned rival for $1.6 billion.
Shannon also granted Takata's request to temporarily halt individual lawsuits against automobile manufacturers who installed the faulty air bags but, again, only for 90 days. He refused, however, to extend that ruling to scores of lawsuits consolidated in a federal multi-district litigation case in Miami.
While acknowledging and expressing sympathy for the circumstances facing many claimants, including those grievously injured and survivors of those who have been killed, Shannon said Takata had met its burden of proving that a halt to litigation was warranted.
The company was forced into bankruptcy in June amid personal injury and economic loss lawsuits, multimillion-dollar fines and crushing air bag recall costs. Takata's air bag inflators can explode with too much force, spewing shrapnel into drivers and passengers. At least 16 people have died and more than 180 have been injured due to the problem. The inflators have prompted the largest automotive recall in U.S. history, with more than 45 million being called back for repairs.
"The debtors are engaged ... in the largest recall in history while simultaneously trying to implement a reorganization strategy around the globe," Shannon noted.
The judge also said that a failed reorganization could negatively affect the recall effort. Takata's bankruptcy is unique in that the automobile manufacturers play a critical role as both its largest customers and largest creditors. They also are indemnified in their agreements with Takata from losses and liabilities related to the air bag inflators, putting a further financial and legal burden on Takata.
"What the debtors seek and need is a breathing spell," Shannon said.
While noting the actions taken by Hawaii, New Mexico and the U.S. Virgin Islands to protect their citizens and enforce their laws are "entirely appropriate," Shannon also pointed out that all states are equally situated in this circumstance.
"The fact is that there is nothing unique about the threat to the citizens of those two states and that territory," he said.
"The state actions represent the proverbial race to the courthouse," Shannon added. "... Any relief obtained by those entities in the state actions will necessarily be to the detriment of the citizens of other states."
While partially granting Takata the relief it sought, the judge encouraged lawyers for the company to be receptive to any individual plaintiff who might face extraordinary or unique hardship because of the 90-day stay, which ends at midnight Nov. 15.
"I do expect the debtors to be responsive where circumstances warrant," he said.