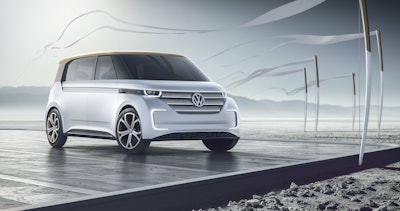 Continuing discussions about resolving Volkswagen's diesel emissions scandal in the U.S. could lead the German automaker to begin producing electric vehicles at its plant in Tennessee.

Reuters, citing a report in the German paper Welt am Sonntag, reported that the talks between VW and the Environmental Protection Agency included an EPA proposal to add electric vehicle production at the Chattanooga factory.
The talks also included the possibility of VW helping to build electric vehicle charging stations throughout the U.S.

The EPA in September disclosed the widespread use of software to manipulate emissions levels from VW diesel engines during official testing.

The software was installed on 11 million vehicles worldwide, and the bulk will be fixed under a plan approved by German regulators for the European Union.
The engines in more than 500,000 U.S. vehicles, however, emit up to 40 times the EPA's threshold of nitrogen oxides, and repairs to comply with that standard will be much more complicated.

Production of electric vehicles could be one way that the automaker addresses the elevated emissions, the report said.
Discussions last month between top VW officials and regulators did not yield an agreement on a fix in the U.S., but both sides vowed to continue to talk. California regulators, meanwhile, rejected recall plans for thousands of affected vehicles in that state.

VW said last fall that it hoped to rely on electric vehicles to recover from the scandal. Neither the company nor the EPA commented to Reuters about the electric vehicle and charging station speculation.

The Chattanooga plant currently makes the Passat and will add production of a new SUV following an ongoing expansion.