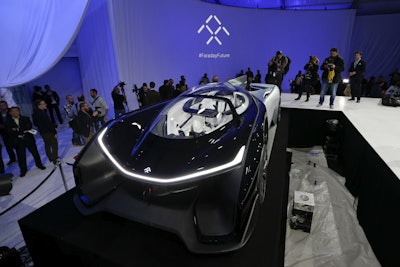 Nevada's treasurer traveled to China last week in part to meet with Chinese investors regarding secretive electric vehicle manufacturer Faraday Future.

The company is planning to build a $1 billion factory in North Las Vegas — with the help of $335 million in state tax incentives — to produce its futuristic electric cars.

But Faraday parent LeTV — the holding company founded by Chinese billionaire Jia Yueting — hasn't traded on the Chinese stock market in more than two months, according to Nevada Public Radio, which prompted concerns from State Treasurer Dan Schwartz.
"As the state official who will issue and sign up to $175 million in general obligation bonds to finance the project, I want to feel comfortable that building the factory will proceed as the Legislature intended and the Nevada taxpayer is protected," Schwartz told KNPR.

Schwartz previously planned to visit China with his wife but decided to add a visit to LeTV to ensure that Jia "is going to stand by his commitment and that he has the means to stand by his commitment."

Schwartz added that he remained supportive of the project, but one critic — state Rep. Ira Hansen, R-Sparks — said during the debate over the incentive package that he would not trust the untested company with state dollars.