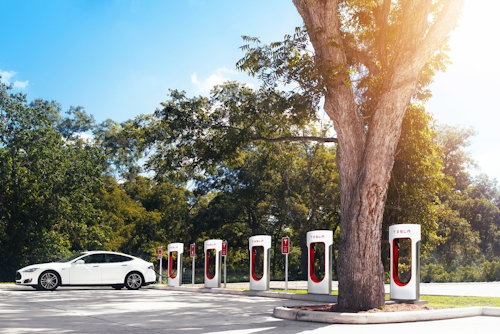 Tesla CEO Elon Musk confirmed that the price of the Model 3, the electric car maker's first mass-market car, would be around $35,000.
But, according to a recent report from Bloomberg Business, the price tag could really be much cheaper.
A Tesla representative told Bloomberg that "the $35,000 price tag on the Model 3 doesn't include the significant federal and state incentives available to electric car buyers."
"We can confirm it's $35,000 before incentives," a Tesla spokeswoman Khobi Brooklyn told Bloomberg. "We haven't changed our minds." 
This means that (with tax credits included) the Model 3 could end up costing as little as $25,000.
Bloomberg estimated that tax incentives — depending on the state you live in — could subtract $10,000 from the final price tag. Additionally, a report from Business Insider confirmed that there's a federal income tax credit up to $7,500 available regardless of a buyer's home state. 
CEO Elon Musk took to Twitter Thursday and confirmed that more details about the Model 3 would be released in coming weeks, but we do already know that the car will likely have a range of about 200 miles per charge.
At a recent event, Musk also said that he was happy with the Model 3's progress.
"I do feel pretty optimistic about the Model 3," Musk said.
"The key thing with the Model 3 is higher volume at a lower price. It is a smaller car, and without as many bells and whistles as the Model S or X. But the goal is to have a very compelling, affordable, mass market electric vehicle and I feel pretty good about that goal." 
On Wednesday, Tesla also reported its fourth quarter earnings and forecasted its predictions for 2016.
Although Tesla confirmed a financial loss, the company's shares are still up because Tesla expects to ship between 80,000 to 90,000 Model S and Model X cars in 2016 (surpassing the original forecast of 76,000).
These estimations, of course, don't include the Model 3, which Tesla expects to deliver in 2017 although reservations will be accepted starting March 31.
Will the Model 3's lower price mean sacrificing some of Tesla's best features? Is this a dream come true for Tesla enthusiasts or is it too soon to tell?
Comment below or tweet me @MNetAbbey.