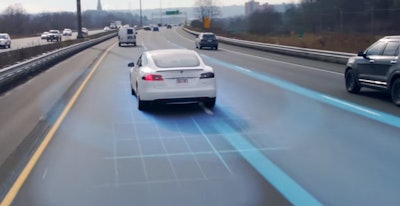 Tesla doesn't produce its own advertisements very often — it depends on some really well put together fan videos. Perhaps that practice is changing a bit, as demonstrated by the American EV company's Wednesday launch of a video promoting the autopilot features of the Model S.
The message of the minute-long promo is simple: Tesla's autopilot signifies a death to the traditional commute. The video begins with a Model S owner activating "Summon" a new software update that turns the car on, pulls it out from inside the garage, and places it in waiting for its owner. The promo then demonstrates how the autopilot feature can operate the vehicle on a highway, change lanes with a user-evoked tap of the turn signal, travel along with the flow of traffic, and parallel park.
Each of these features have been profiled by various sources, including Product Design & Development. The operation of the Model S has also been captured by Tesla devotees, many of which have produced video impressive enough to earn a hat tip from the company.
Despite all of the Tesla coverage, the company could be entertaining the idea of producing more of its own video. If Tesla is planning to take that approach, right now might be the time — the price of the company's stock has sagged throughout the early stages of 2016. After ending 2015 at $240.01 per share, Tesla stock opened Wednesday at $192.28.