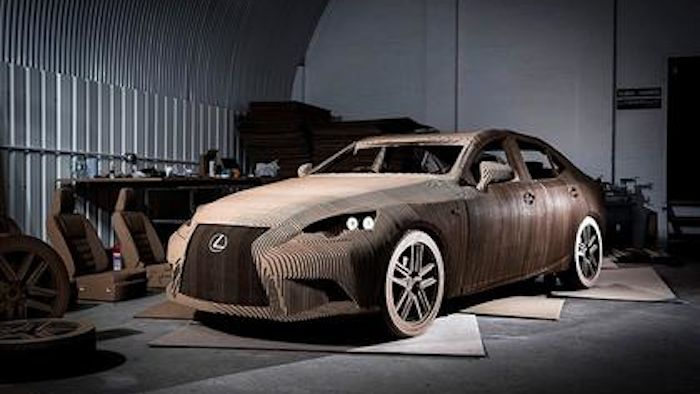 Lexus recently sought out a team of designers to sculpt and assemble the Origami Car, a full-scale model of Lexus' newest IS sedan, to celebrate the craftsmanship involved in their design.
The team received a digital 3D model, which was then rendered into paper slices, using a total of 1,700 10-mm-thick sheets.
"We were able to take the CAD drawing that's used in production of the real car, slice it up and produce a carbon copy in cardboard," said Reuben Marcos, creative director at London-based Scales and Models, of the three-month project.
After each piece was individually cut, they were numbered and precisely hand-assembled using water-based glue.
The vast majority of the car is made entirely of cardboard, but it also features a steel and aluminum frame, electric motor and headlights — enough to make it a drivable, albeit not roadworthy, vehicle.
Although there is no plan for the cardboard masterpiece to go into mass production, the Origami Car will make its public debut on Oct. 8 at a design show in England.
Would you want to take Lexus' new paper model for a drive? Comment below or tweet @MNetKatie.
Images courtesy of Lexus.