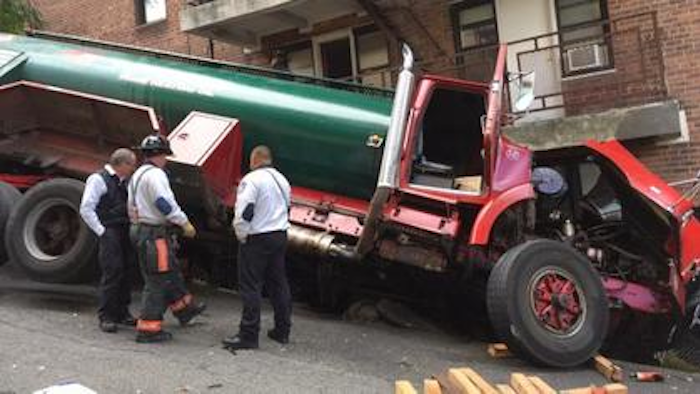 YONKERS, N.Y. (AP) — A fire official says a runaway oil tanker truck has crashed into the side of an apartment building, tipped on its side and spilled 100 gallons of oil in suburban New York.
Yonkers Fire Department Deputy Chief Kevin Ford says nobody was injured in the mishap Monday.
Ford says the truck's brakes gave way while it was stopped to make a delivery. The driver wasn't in it at the time.
Ford says the 4,000-gallon tanker descended a hill, hit a car and struck the building. He says the vehicle then tilted onto its side.
The building wasn't structurally damaged.
Ford says a hazmat team has stopped the leak. He says the tanker company is sending workers to right thetanker and tow it away.
The company's name hasn't immediately been disclosed.
How a runaway oil tanker truck ended up like this on a New York street: http://t.co/55N2Uem9CD pic.twitter.com/NZePI8if85

— NBC New York (@NBCNewYork) October 6, 2015