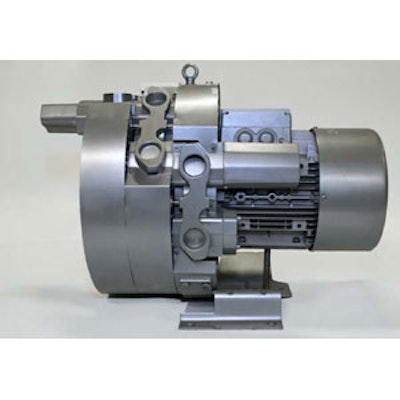 AMETEK Technical & Industrial Products introduces 2 new ROTRON® regenerative blowers (DR333 and DR433) to agitate solutions, convey parts and products, perform vacuum hold-down and pick-up operations, dry and clean parts, or sample process and off gases, among many other capabilities. According to the company, these blowers additionally grant:
The ability to develop proper air pressures and vacuums, without the higher energy and maintenance costs associated with larger multi-stage or positive air-displacement blowers and compressors.
Maximum flows up to 58 SCFM, pressures up to 10.8 PSIG and vacuums up to 17.5 IHG on the DR333, while the DR433 can achieve maximum flows up to 110 SCFM, pressures up to 13 PSIG and vacuums up to 17.6 IHG.
UL-approved, 3-phase, totally enclosed fan-cooled motors with permanently sealed ball bearings contributing up to 25,000 hours of service life.
A rugged cast aluminum housing, impeller and cover.
Threaded cast iron flanges.
A reliable and long service life at the point of operation.

A clean, oil-free and quiet design.
Suitability for a wide range of industrial applications.
The flexibility to be customized with options and accessories to satisfy specific application requirements.