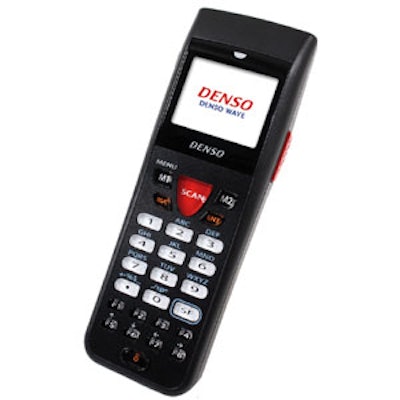 DENSO introduces its BHT-900 Series handheld barcode terminals with convenient C-language programming and a direct USB connection to a PC. According to the company, these barcode terminals also offer:
Advanced charge-coupled device technology to recognize even hard-to-read or damaged barcodes.
A maximum speed of 400 scans per second.
The power to run for 200 hours between charges.
A large, easy-to-see display.
Up to 3 trigger keys to allow operation without changing grip, thus reducing operator fatigue.
Pre-installed software to enable instant, out-of-the-box use for basic data-collection applications.
A robust design, having been tested to withstand 60 drops onto concrete from a height of 3.9 feet.
Communications capabilities that include Media Transfer Protocol, Bluetooth 2.1 (BHT-904BB only), and batch communication via RS232C or USB.
A slim, lightweight and ergonomic profile for easy-touch or distance scanning.