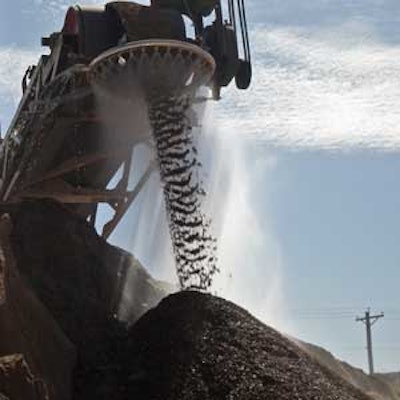 The DustBoss® DB-RTM Ring from Dust Control Technology is engineered for industrial strength and longevity and is built with a high-quality stainless steel ring outfitted with a network of atomizing nozzles that deliver millions of 50-200 micron droplets per minute. According to the company, the ring is characterized by:
By surrounding the discharge flow on all sides, it provides simple, focused dust management that is well suited to continuous duty, such as radial stackers.

Availability in five standard sizes, from 17 inches (43.2 cm) to 100 inches (254 cm) in diameter.

All five sizes can be customized with DCT's Variable Particle SizingTM technology, allowing customers to specify different droplet size ranges to match specific materials.

Designed without moving parts, the intrinsically safe DB-R is intended for elevated mounting.

It requires no electrical power or compressed air.

The water supply hose is connected directly to male pipe threads on the ring.

Available options for the DB-R include a booster pump to elevate low water pressures, a variety of nozzle sizes and configurations and a water filter.

Customers can also order the units with a two-way valve and/or hose included.

The number and size of the spray nozzles vary by model.