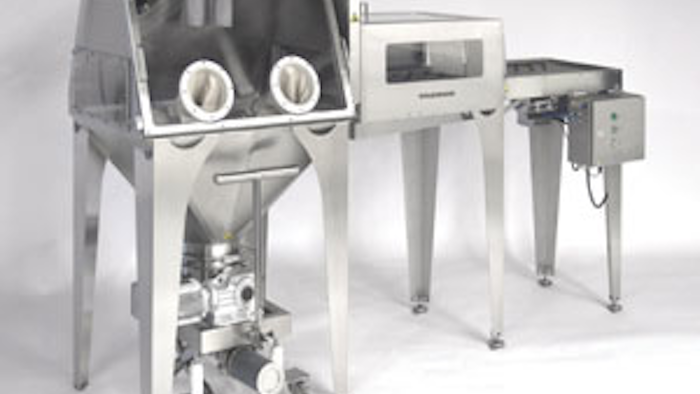 The RNT-CON contained rip-and-tip dump station from Volkmann permits the dust- and contamination-free opening and discharging of high-quality, high-potency powders and fines from bags, boxes and small containers. According to the company, the rip-and-tip dump station additionally boasts:
Safe and hygienic handling of materials, which helps processors meet increasingly demanding operator safety and environmental regulations.
A roller conveyor that semi-automatically feeds bags or containers through a dust lock into the unloading chamber (or isolator) with an integral glove box.
The ability to use the glove box to manually open and discharge containers into the feeding hopper.
An isolator that uses negative pressure to contain powders or fines.
A vacuum conveyor to transfer material to the next stage in the process.
The convenience of flushing the closed unloading chamber from within using a hand washing gun or WIP/CIP.
Emptied bags, which are brought out through a port to a modular bag compactor or endless liner.
A modular design.
Various functional components and options that can be easily configured to meet process-specific requirements.