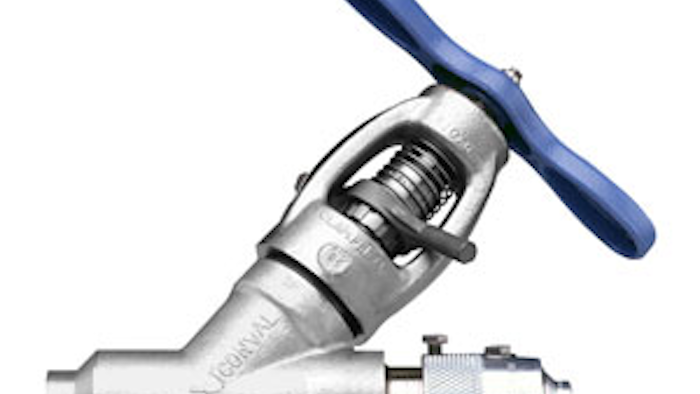 Conval now offers an easy-to-retrofit, single-weld, OSHA-compliant safe vent drain for its Clampseal Y-pattern forged globe valves. The SaVD safe vent drain, according to the company, additionally delivers:
Fast, safe and environmentally friendly venting and draining of piping systems.

Safe depressurization, which is achieved in just 1 drip of fluid.

A HILTAP metal-to-metal wedge safety connector with 2 dynamic sealing surfaces, a compact profile, ultra-safe residual pressure venting and quick connectivity to a gravity drain hose.

Enhanced leak-free valve performance.

The ability to lock the coupling under line pressure — the locking threads are located outside wetted volumes.

Standard materials that include SA182-F316, A105 and F22 stainless steel.

½- through 2-inch sizes, through an ASME 2500 pressure class.

 

NPT, butt weld or socket weld ends.

The flexibility to steam-clean or pressure-purge valve-mounted couplings.

The replacement of low-pressure bull plugs and screwed caps.

Accommodations for a matching HILTAP drainage pipe to minimize downtime, labor and environmental cleanup expenses.

Compliance with ISO 9001-2000 with full material traceability, plus availability of CRN registration.