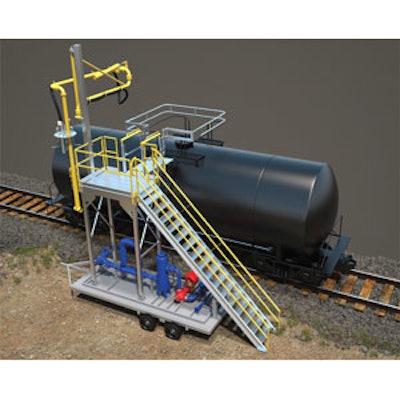 Carbis has designed its mobile transloading carts to provide a reliable means of transferring liquid product from railcar to truck or vice versa in areas without permanent infrastructure. The company believes that these versatile carts are not only characterized by safety, but also:
A foldout ramp that reaches across to the hatch of the truck or car, and ensures safe access to the top of a railcar or truck to perform the transloading process, located on top of the platform.

Access platforms with stairs that use non-skid surfaces.

Handrails and midrails on both sides for added safety while accessing elevated work areas.

Easy maneuverability with minimal effort.

 

Durable construction.

Quick and easy setup since all transloading equipment (valves, pumps, meters, etc.) are factory installed, allowing you to start operation immediately upon delivery.

OSHA compliance.

The flexibility to be configured to meet the specific requirements of your company's transloading needs — for example, if your application involves pumping, metering or custody transfer, there is a custom solution to meet your needs.

Optional top and bottom loading arms, and hose handlers to make transferring the product safer and easier.