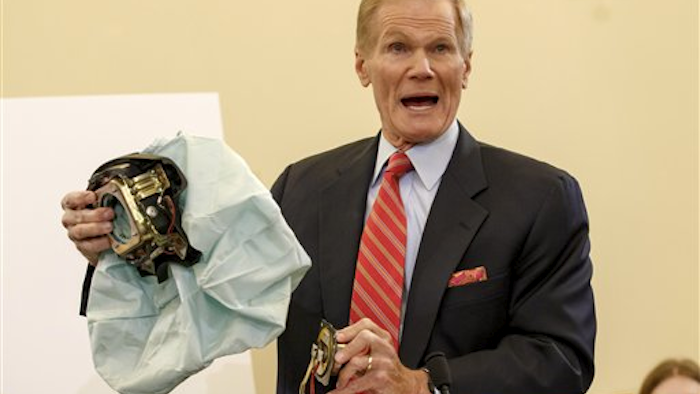 RICHMOND, Va. (AP) — The U.S. government will fine Japanese airbag maker Takata Corp. $14,000 per day for failing to fully cooperate in a long-running investigation of faulty and potentially dangerous airbag inflators.
The inflators, which are in cars made by 10 auto companies, can explode with too much force, spewing shrapnel into drivers and passengers. At least six people have been killed and 64 injured worldwide due to the problem.
Transportation Secretary Anthony Foxx announced the fines on Friday in Richmond, Virginia, on a bus tour to promote a major transportation bill. He called Takata a "bad actor" and said the fines will grow each day that it fails to comply with two special orders issued last year by the department's National Highway Traffic Safety Administration.
Takata has resisted demands to recall its driver's side airbags nationwide, although automakers have done recalls themselves. The agency also has demanded data from the company, but said in a letter to Takata that it has failed to explain a "deluge" of 2.4 million pages of documents that were turned over. Federal law requires Takata to provide a catalog or index with the documents so investigators know what to look for.
Takata officials have said publicly that they are cooperating, but that's not the case, Foxx said at a news conference at the Richmond airport. "This is silly," he said. "We have a very serious defect issue. We're working as hard as we can to get defective (cars) off our roads. ... We will not tolerate this."
Foxx accused Takata of flooding NHTSA with unexplained documents. "It's a dump, and that's not what they're supposed to do."
Takata is required by law to point out "safety relevant" information in the documents, but hasn't done that, said NHTSA Administrator Mark Rosekind.
Messages left for Takata spokesmen were not immediately returned on Friday.
The letter, from NHTSA Chief Counsel O. Kevin Vincent, says Takata isn't being forthcoming or being cooperative with NHTSA's probe. "At this point, Takata has still not taken any steps to provide the agency with an explanation of the documents," the letter said.
Fines will continue to accrue until Takata "fully and substantively" explains the documents, according to the letter.
Vincent also threatens in the letter to begin taking depositions of Takata employees in the U.S. and Japan if the company doesn't comply, and it also threatens to refer the case to the Justice Department for further court action.
NHTSA has said that Takata's inflator propellant, ammonium nitrate, can burn faster than designed if exposed to prolonged moisture in the air. That can cause it to blow apart a metal canister meant to contain the explosion. So far, automakers have recalled about 15 million vehicles in the U.S. and about 22 million globally due to problems with Takata inflators. There could be as many as 30 million with the airbags nationwide.
The transportation bill, called the Grow America Act, was unveiled by the administration last year. It would the amount the government can fine automakers from $35 million to $300 million. It would also triple NHTSA's investigations budget to $31.3 million and give the agency new authority to stop the sales of defective autos on the grounds that they are an "imminent hazard" before the agency's defect investigation is complete.
Also in the bill are provisions requiring used car dealers and rental car companies to get recall repairs made before they can rent or sell cars.
"I am asking Congress to pass the Grow America Act, which provide the tools and resources needed to change the culture of safety for bad actors like Takata," Foxx said.
____
Krisher reported from Detroit.