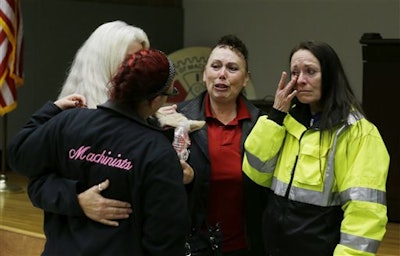 SEATTLE (AP) — Under pressure from national union leaders, machinists in Washington state took a late-night vote that defied their local union bosses by narrowly approving a new labor contract that secures a coveted plane project for the Seattle area but moves workers away from pensions.
The tight count exposed deep rifts in the once-powerful union, but with plenty of states lining up to give Boeing exactly what it wanted to get work on the 777X, the aerospace giant had a tremendous advantage.
The company, the state's governor and national union leaders all hailed the contract as a vital boost to the region's economy, but to some observers the vote dealt a blow to local union influence.
"It shows that even a strong local is vulnerable and has a limited defensibility to slow the tide of concessions that has been going on across the country," said Leon Grunberg, a sociology professor at the University of Puget Sound who co-authored a book, "Turbulence: Boeing and the State of American Workers and Managers."
He added Saturday, "This is happening with a company that's doing very well financially."
Members of the International Association of Machinists and Aerospace Workers approved an eight-year contract extension late Friday by 51 percent, a turnaround from November when the same workers voted down a previous offer by 67 percent.
The passing margin was about 600 votes of about 23,900 counted, according to Wilson Ferguson, president of a local unit of District 751.
Ferguson said Saturday that the vote diminished the local union's power since it conceded some hard-fought benefits they won't be getting back.
Foes of the contract opposed the idea of freezing the machinists' pensions and moving workers to a defined-contribution savings plan.
"The very fact that Boeing was making these demands in the first place just has to be seen as discouraging for average workers," said Jake Rosenfeld, a sociology professor at the University of Washington who has a forthcoming book "What Unions No Longer Do."
"This is a very strong union, and if you have a strong union, being forced into givebacks of this sort ... then you can just imagine how little leverage other workers have when negotiating," he added.
But Richard Gritta, a finance professor at University of Portland, said Boeing needed to gain these concessions to remain competitive in the "dog-eat-dog industry" that has seen Boeing and Airbus trade dominance.
"It's a very tough industry. To gain these concessions from labor is critical," he said Saturday.
Local union officials had urged their 30,000 members to oppose the deal, arguing that the proposal surrendered too much at a time of company profitability. They had opposed taking a vote at all but were overruled by national leaders in the Machinists union.
A number of political leaders, including Washington Gov. Jay Inslee, praised the vote, which supporters said keeps thousands of well-paying jobs in the state and solidifies Boeing's presence in the Seattle area, where the company built its first airplanes nearly a century ago.
Boeing workers cry after learning that voters in District 751 of the Boeing machinists union voted to accept Boeing's latest contract offer to keep the assembly of the Boeing 777X airplane in Washington state, Friday, Jan. 3, 2014, in Seattle. (AP Photo/Ted S. Warren)Inslee, a Democrat, said the vote secured Washington state's "future as the aerospace capital of the world."
Some local elected officials had said there was no other choice but to vote "yes."
Grunberg, the University of Puget Sound professor, said, "Everybody was scared about Boeing moving this huge new production out of state, so I think there was tremendous anxiety about losing this production."
More than 20 other states moved recently to bid for work on the 777X, an updated version of Boeing's best-selling 777. Boeing has said the 777X is expected to carry as many as 400 passengers and be more fuel efficient than the 777.
U.S. Sen. Patty Murray, D-Wash., on Friday said the decision wasn't an easy one and workers' concerns about income and retirement security were legitimate. But the Democrat also said the agreement guarantees "thousands of good-paying jobs and billions of dollars in economic growth."
Under the terms of the contract extension, Boeing said the 777X and its composite wing will be built in the Puget Sound area by Boeing employees represented by the Machinists union.
Boeing Commercial Airplanes President and CEO Ray Conner said Friday that "the future of Boeing in the Puget Sound region has never looked brighter."
Lynne Dodson, with the Washington State Labor Council, the largest labor group in the state with 450,000 members, didn't see Friday's vote as an indication of declining union influence. "It's an indication of just how far Boeing will go," she said. "It's more a reflection of corporate greed than of union power."
Ferguson, the local union leader, said Saturday morning: "This was a turning point in the labor movement. Pensions were hard-fought battles to get in the first place. Once they're gone, they're gone."
"Their fear and intimidation worked," he added.
---
More from MBTMag.com
Staff Seize Bosses At French Goodyear Site
GM To Outfit Chevy Vehicles With 4G From AT&T
Global Tech Spending Seen Slipping 1 Pct In 2014
Explore more news

here

.