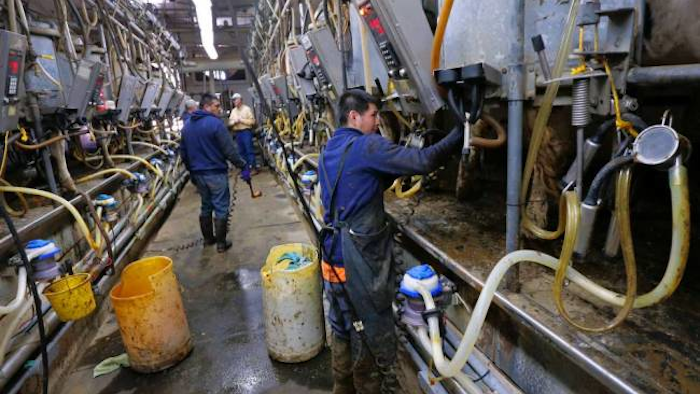 Dairy prices worldwide are down nearly 40 percent as forecasters predict another year of record milk production in 2015.

Farmers in the U.S., however, appear to have little incentive to cut back at the moment, according to a Bloomberg report.

The U.S. Department of Agriculture expects the country's dairy farmers to produce 208.7 billion pounds of milk this year, which would be a fifth consecutive record.

Farmers increased production amid rising demand for cheese and increasing purchases from China, but export demand waned as the dollar gained strength.

Worldwide, the USDA expects a record output of 582.52 million tons due to strong production in New Zealand and the elimination of dairy restrictions in Europe.

Data compiled by the United Nations, meanwhile, said global dairy prices are at their lowest levels in five years, down 39 percent compared to a record high in early 2014. One analyst told Bloomberg prices could fall even farther before recovering next year.

Sliding prices benefitted processors and retailers — which helped keep food prices down — but curbed farmers' profits. A variety of factors, however, could keep output at its current pace.

Domestic demand remains strong, while falling energy prices saved farmers money on fuel and feed costs. In addition, high beef prices are increasing the prices for younger and older cows.

Should profits fall much farther, observers expect output to see an impact. California -- the nation's top milk-producing state -- could be ahead of the curve in reducing output as it deals with a historic drought.

In the meantime, some producers in the northeast can't find buyers for their surplus milk and resorted to dumping it in pits normally reserved for manure.

"There's no way to process it in the time needed for a perishable product," Bob Wellington of Massachusetts producer Agri-Mark told Bloomberg.