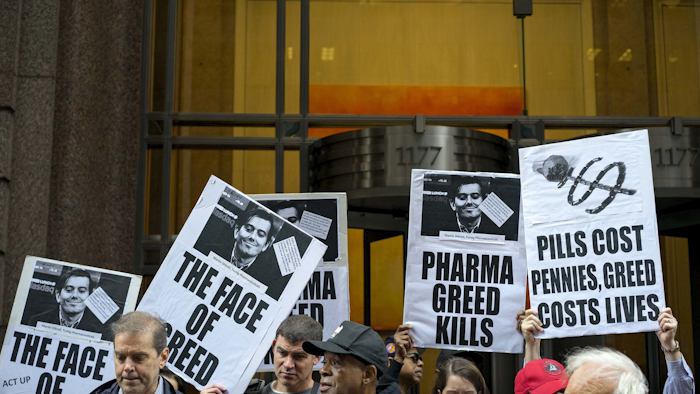 Martin Shkreli, the former hedge fund manager under fire for buying a pharmaceutical company and ratcheting up the price of a life-saving drug, is in custody following a securities probe. The AP reports that his arrest was confirmed Thursday by FBI spokeswoman Kelly Langmesser.
Shkreli was thrust into the spotlight in September, when the 32-year-old CEO of Turing Pharmaceuticals AG raised the price of an anti-infective drug Daraprim by more than 5,000 percent. Turing acquired Daraprim in August and raised its price to $750 a pill from $13.50. Even with the discount to hospitals the drug, used to treat infections for people with weakened immune systems caused by conditions like HIV and chemotherapy-treated cancer, will cost $375 a pill.
Though this issue has made headlines – even making its ways into the discourse of presidential candidates – Shkreli's arrest has nothing to do with it. Rather, says Bloomberg Business, prosecutors in Brooklyn charged him with illegally taking stock from Retrophin Inc., a biotechnology firm he started in 2011, and using it to pay off debts from unrelated business dealings. He was later ousted from the company, where he'd been chief executive officer, and sued by its board. Also, according to Bloomberg, "In the case that closely tracks that suit, federal prosecutors accused Shkreli of engaging in a complicated shell game after his defunct hedge fund, MSMB Capital Management, lost millions. He is alleged to have made secret payoffs and set up sham consulting arrangements."
Earlier this year, the BBC dubbed Shkreli "the most hated man in America." Though he responded to backlash on the Daraprim issue by suggesting he would lower the price to "an affordable level," he has yet to do so.