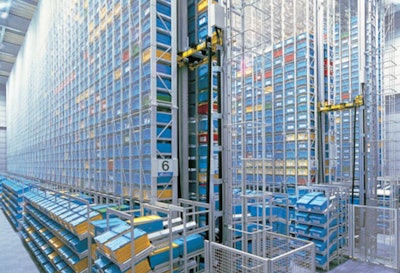 If you think automation is only a short-term solution to the increasingly prevalent manufacturing skills gap, think again.
In recent years, the demand for industrial robots has accelerated considerably due to a variety of factors, including the ongoing trend toward automation and the continued innovative technical improvements of industrial robots.
Automating industrial processes offers manufacturers a host of benefits: accuracy in production, consistent quality results, low maintenance costs, faster work (24/7), reallocation of skilled workers to other areas of the warehouse, etc.
As noted in a PR Newswire press release, one market in particular — automated material handling — has fundamentally changed the way various industries, including manufacturing, function. This market, poised to more than double over the next five years, is forcing the material handling industry to respond with new equipment, technologies, and systems.
Let's explore some of the factors driving this growth of automated material handling, as well as what they mean for manufacturing companies:
Industry Growth & Shortage of Skilled Workers
According to a FoodOnline blog post, a major driver of the automated material handling market's acceleration is "growth in the manufacturing sector and an increase in the number of manufacturing facilities."
Despite what many refer to as a "mid-year slowdown," a recent IndustryWeek article reports that U.S. manufacturing has shown strength in recent months. "The October report is a positive statement about manufacturing growth," says MAPI Foundation chief economist Daniel J. Meckstroth in the article. "A recent major driver of growth is the ramping up of the construction supply chain; both residential and commercial and industrial construction are strong, and public works construction is growing at a modest pace."
Meckstroth also notes that the solid growth in October bodes well for heading into 2016. As the industry continues to experience growth in the coming year, however, manufacturing must come to grips with how best to incorporate Millennials into the labor force to positively contribute to the future of the industry.
Enter automated material handling.
"For manufacturing, there's a significant percentage of Baby Boomers looking to retire in the coming years," says Ed Romaine, Vice President of Sales & Marketing, SI Systems. "So how do you replace the older generation of skilled workers? You replace them with automation. Automation is going to fill the voids, fill the gaps by making processes more efficient."
Improved Technology
Automated material handling — comprising automated guided vehicles (AGV), automated storage and retrieval systems (AS/RS), automated conveyor and sorting systems, robotic systems, automated crane and various software systems — isn't a new concept.
Research from Boston Consulting Group shows roughly 10 percent of today's manufacturing functions are fully automated — and that number is predicted to reach 25 percent over the next decade, as robotic vision sensors, intelligence and gripping systems improve.
In combination with industry growth and shifting workforce demographics, the automated material handling market is also being driven by improved wireless technology, particularly with regard to AGV. Seegrid's vision-guided AGV, for example, uses navigation sensors to build a 3D map of the manufacturing facility, which allows the vehicle to follow a trained route without human assistance or the addition of special features, landmarks, or positioning systems.
As noted in an article on Manufacturing.net by Martin Hurworth, Operations and Technical Director at UK-based Harvey Water Softeners, "The manufacturing sector is a fast-changing, cut-throat industry. Firms who make their living there should be constantly looking to invest in new technologies to make their operations smoother, smarter and swifter, not to mention more cost-effective."
Enhanced Focus on Worker Safety
As more and more companies look toward automation to remain competitive in the market, drive down costs and promote efficiency in the warehouse, they also create a safer working environment for employees in doing so. Improving working and safety conditions is, in fact, one of the primary drivers of automated material handling, according to a recent MarketsandMarkets post.
The idea isn't simply to protect workers from warehouse injury or illness, although the Bureau of Labor Statistics data on warehouse accidents speaks for itself. Automating material handling tasks allows manufacturers to remove workers from dangerous or repetitive work and redeploy talent to other areas of the warehouse where workers can be more productive, safe and fulfilled.
SI Systems' Ed Romaine notes that automation allows his organization to make sure that it takes the least amount of effort to do the most amount of work. "By using automated systems and intelligent software, we're now reducing walking, searching, and time spent delivering things," he says. "These are all different means of reducing the ergonomic strain on an individual, which helps enhance the company's return on investment on their employees. It's a win-win for everybody involved."
Final Thoughts
Automated material handling is more than just a good idea for companies looking to drive efficiency, productivity and revenue growth in the years to come. As noted above, the main drivers of this market's growth — manufacturing facility expansion/shifting workforce demographics, advanced technologies, and worker safety — are forcing the industry to respond with new technologies, equipment and systems.
How is your company keeping up with the shift toward increased automation in manufacturing?
About The Author: Scott Stone is the Director of Marketing for Cisco-Eagle, Inc., a provider of integrated material handling and storage systems for industrial operations. Scott has 25 years of experience in industrial operations and marketing.
(Image credit: Cisco-Eagle)