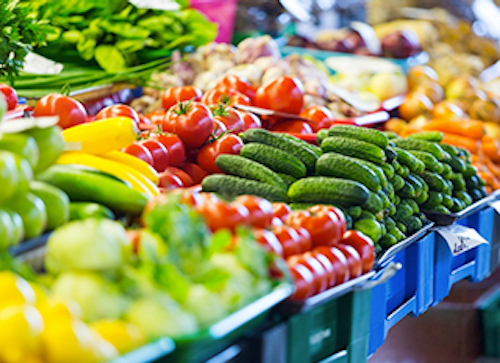 Trends are a pretty useful feature of Twitter that offer a glimpse of what people are talking about around the world.
And this week, people are talking food. More specifically, about the #FutureofFood and #NationalVegetarianWeek.
The Future of Food
When it comes to food security, consumers and the industry alike are practicing ways to hold down our food supply for years to come. It is currently estimated that by the year 2050, the global population will be around 9.6 billion. That projection, coupled with concerns about limited resources, hunger, climate change and obesity, has people talking.
"@Food_Tank: "To face climate change farmers need more localized food systems & expanding democracy" #FutureofFood pic.twitter.com/qZnef2tgKc"

— nühaus (@nuhausSYSTEMS) May 18, 2015
Great discussions here at #futureoffood on the future of our food system and opportunities for change - session on #WellBeing just began

— EAT (@EATransition) May 18, 2015
Here's the future of both agrilcuture & food. Study by Alexander Muller http://t.co/aZVpfjwLA8 #FutureofFood pic.twitter.com/SMololHfEd

— Danielle Nierenberg (@DaniNierenberg) May 18, 2015
Feeding the #Fish That Feed the World #FutureofFood http://t.co/2uPuWxSwhS via @NatGeo

— Kristyn NanlalKhetia (@kaenkay) May 18, 2015
National Vegetarian Week
Organized by the Vegetarian Society, this year's National Vegetarian Week is all about sharing and enjoying delicious veggie food with your family, friends, colleagues and neighbors. 
Vegetarian food is exciting, flavourful and always very vibrant, whether it's the from supermarkets or a restaurant menu. So this week, consumers of the vegetarian community are sharing their favorite recipes and best ideas to incorporate more meat-free food into your diet.
5 reasons a meat-free diet is good for your health http://t.co/Qez6ZXsXzU #NationalVegetarianWeek pic.twitter.com/c1dCKsUmf4

— The Independent (@Independent) May 18, 2015
It's #NationalVegetarianWeek Celebrate with a @vegsoc approved beer! #nvw15 pic.twitter.com/pRXD51GBRx

— Clarkshaws Brewing (@Clarkshaws) May 18, 2015
#NationalVegetarianWeek the video that turned me vegetarian: https://t.co/5fv1jFV2oq

— Mary Poppins (@edarnleysmith) May 18, 2015
Apples to Zucchinis: Our A-Z of great vegetarian restaurants for #NationalVegetarianWeek: http://t.co/BJsKWl8Flm pic.twitter.com/ReWCzNA5Vr

— lastminute.com (@lastminute_com) May 18, 2015