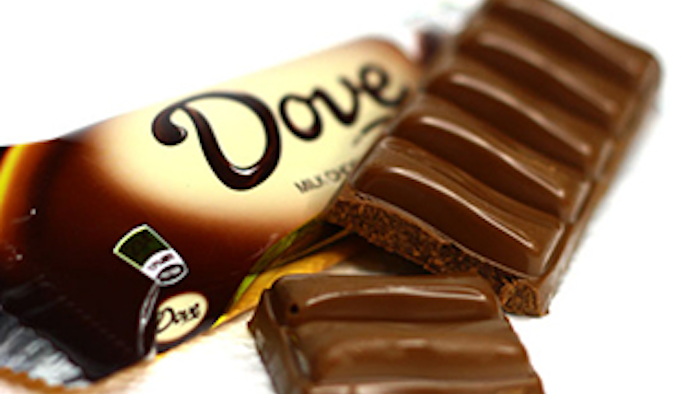 MOUNTAIN VIEW, Calif. — NetBase, the enterprise-scale social media analytics company, today released statistics from a three-year Brand Passion Index™ analysis on "Cupid's Favorite Chocolate" using social media data from 2013, 2014, and 2015.  The analysis comes just in time for consumers to select the most popular chocolate treats for their loved ones this Valentine's Day.
Leveraging natural language processing technology, which identifies both Brand Passion and Net Sentiment, NetBase measured the behaviors, emotions and opinions about the following chocolate brands: Hershey's, Godiva, Ghirardelli, Ferrero Rocher, Neuhaus, Lindt, and Dove.
For the past three years, Dove has consistently earned a spot in the "Love" category, with consumers citing Dove's dark chocolate as a favorite. But this year, the brand overcame two-time favorite Ferrero Rocher for the coveted most loved title with both Net Sentiment and Brand Passion scores of 92. Ferrero Rocher came in second in all three metrics with 49,309 mentions, a Net Sentiment score of 91 and a Passion Intensity score of 80.
User comments about Ferrero Rocher included:
• "Ferrero Rocher will forever be my favorite chocolate."
• "I'm absolutely addicted to Ferrero Rocher candies. They're heavenly and I cannot seem to get enough of them."
Godiva, Neuhaus, and Ghirardelli were the least talked about brands this year. Lindt, a least-talked-about brand in 2013 and 2014, soared ahead in 2015 with 15,015 mentions, a 47 percent increase since 2013.
"Social analytics allow us to identify changes in brand perceptions over time," said Bruun-Jensen. "Having instant access to this kind of comparison allows brands to do everything from track the effectiveness of one campaign over another to evaluating how their brand performs at different points in the year. This kind of analysis is key in driving informed business decisions across a variety of departments."
About NetBase
NetBase is the award-winning real-time social business platform that global companies use to run brands, build businesses, and connect with consumers every second. Billions of social media posts are processed daily for actionable business insights for marketing, research, customer service, sales, PR, and product innovation leaders. NetBase is a trusted partner to Ralph Lauren, Guess, Target, Bose, Sony, Condé Nast, Nespresso, Live Nation, and many other amazing brands and agencies.