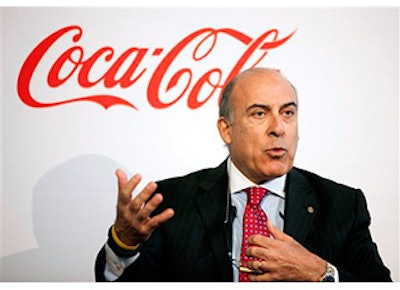 NEW YORK (AP) — Coca-Cola is curtailing its pay plan for executives after shareholders including Warren Buffett called it excessive.
The world's largest beverage maker said Wednesday its long-term incentive program will now distribute the company's shares to a smaller group of executives, while the rest will be rewarded with cash bonuses instead.
That will mean the total shares authorized to be awarded under the plan will last longer. In addition, Coke said the mix of long-term equity awards will be adjusted to be more heavily weighted to performance shares, rather than stock options.
Coca-Cola's pay plan came under scrutiny earlier this year after Wintergreen Advisers called it a "raw deal" for shareholders, particularly in light of the company's slowing growth as it faces declining soda consumption in the U.S. and other parts of the world.
Wintergreen CEO Dave Winters had said the company's equity plan would transfer roughly $13 billion to management over the next four years.
In a statement Wednesday, Winters said, "Coca-Cola has finally conceded that the equity compensation plan it put to a vote of shareholders in April was outrageously excessive and inconsistent with past plans."
Buffett, whose Berkshire Hathaway is Coke's biggest shareholder, is a longtime critic of excessive pay packages. But he said Berkshire Hathaway didn't vote against the plan at Coca-Cola's annual meeting because he didn't want to publicly express disapproval of the company's management.
Afterward, however, Buffett said he discussed his concerns about the pay plan with Coca-Cola CEO Muhtar Kent.
Buffett did not immediately respond Wednesday to questions sent to his assistant.
Last year, Kent was given a pay package worth $18.2 million, according to an Associated Press calculation. That was down 16 percent from the previous year because Coca-Cola failed to meet its own growth targets.
The Atlanta-based company also said it would increase transparency about its stock and option awards and formalize its practice of share repurchases to keep stockholders' stakes from being diluted.