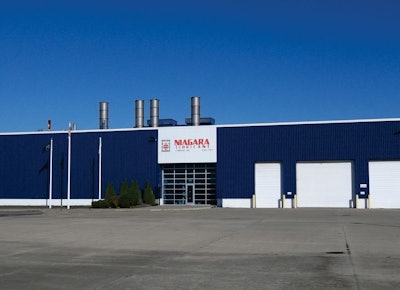 In August 2011, the factory owned by Niagara Lubricant Company, Inc., a Buffalo-area, family-owned business since 1923, went up in flames in a four-alarm
chemical fire. While the fire was contained so as not to spread to other buildings in the area, it was a total loss for the company.
We sat down with Leon Smith IV, Vice President of the company, who shared his Top Five Tips for responding to a company disaster, tips that ultimately helped Niagara Lubricant rebuild.
Communicate Immediately with Key Customers and Vendors 

Immediately contact your top customers and vendors to reassure and inform them of the catastrophic event and to let them know that the company will be rebuilding.
Request their help. Ask for help/assistance in any capacity to keep your customers supplied with product even if it is from a competitor. In our case, we made calls while our building was still on fire in order to get things in order as quickly as possible and at a time when people were most willing to help.
We were fortunate enough to have some of our competitors assist us with finished product and used equipment.
Support and Reassure Employees 

Reach out to employees quickly to ease their concerns.
Remember that the employees are worried about remaining employed and supporting their families.
Secure New Space/Location as Soon as Possible

Move quickly to secure a new location/space in order to begin operations and to reassure customers and employees that the business will continue.
Time is very critical. Our fire happened on a Wednesday and we moved into our temporary location 5 days later, on Monday.
Triage Equipment and Machinery Needs

Determine the most vital equipment and machinery needs as soon as possible.
Determine what might be salvageable, borrowed, rented or bought and then make the necessary arrangements as soon as possible to be able to resume operations soon after finding new space.
Keep a Positive/Determined Attitude

Maintaining a positive attitude is important as the attitude and mood of upper management is what is passed down to the other employees.
No matter how stressed, angry, tired, or depressed you are, you must put on a brave face and smile for the benefit of your employees.
The employees' mood is a direct relation to the managers in charge and their resilience may be critical to your company's rebuilding effort.
By acting quickly to rebuild, and with the assistance of some competitors, vendors and hard work from employees, the company has been rebuilt from the ground up and is enjoying steady growth today. Niagara Lubricant unveiled a new, larger location with 65,000 square feet of space that is completely retrofitted for the manufacture and packaging of lubricating oils, private label, industrial oils and tire care products this August. Nine new positions will be created to meet the growing company's needs.