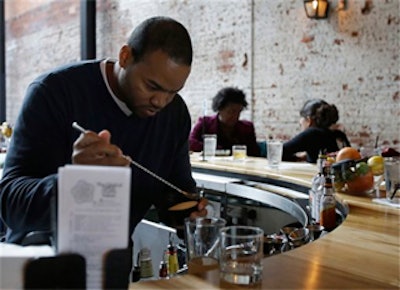 HOUSTON (AP) — Call it benevolence through beer, donating via daiquiri or generosity by gin and tonic.
A new Houston bar is offering its customers not just a relaxed atmosphere with good drinks and food, but a pledge that 100 percent of its profits will be donated to a different local charity or social cause each month.
And patrons can vote for which charity benefits from their Merlots and martinis.
"Where else can you do good with your drinking?" said Tom Burgett, 45, as he sat at the oval-shaped counter at the center of the bar with his wife, Kim, and enjoyed a beer.
The Original OKRA Charity Saloon is one of several bars around the country that are using the business as a way to give back to local communities and also providing people a creative method of being philanthropic. There are similar bars in Washington, D.C., and Austin and another being planned in Portland, Ore.
Houston bar and restaurant owner Bobby Heugel's group, an Organized Kollaboration on Restaurant Affairs or OKRA, runs the charity saloon. Heugel said the idea was born of a need to highlight the civic exchange that occurs between restaurants and bars and the communities they operate in.
"And so finding a way for your establishment to be part of the community from which you profit from I think is really important," Heugel said of the group, which is made up of some of the city's best-known establishments, including Anvil Bar & Refuge, Underbelly and Oxheart.
At the charity saloon — located in a downtown brick building that dates back to the 1880s — whenever customers order a drink or food, they will get one ticket for each item. On each menu is a short description of the four charities being featured that month, said Mike Criss, the bar's general manager. Customers vote by dropping their tickets into a row of boxes, one for each charity.
Once the bar, which is registered as a nonprofit, pays its operating costs, 100 percent of the remaining profits go to the winning charity. Heugel said the ultimate goal is to donate $10,000 per month.
As they stood at the bar's counter underneath the striking, curved wooden-barrel vault ceiling, Meagan and James Silk reviewed the list of January's charities. They included ones that combat childhood obesity, provide services to HIV and AIDS patients, give furniture to needy residents and rescue neglected and abused dogs and cats.
With a laugh, Meagan Silk told her husband which charity they would both support.
"I vote for one kind of charity pretty much. We are animal people," she said. The Silks run a Houston restaurant.
Her choice, Corridor Rescue, ended up being the winning charity for January and will get the bar's profits for February.
Anna Barbosa, Corridor Rescue's fundraising director, said the donation will allow the nonprofit to support its spay-neuter program and offer medical care for more animals.
"It just means the world to us to get this kind of community support and through the charity bar we're so grateful because we get more visibility," she said.
Nick Vilelle, one of the co-founders of "philanthropub" Cause in Washington, D.C., said showing how and where the money is spent is key for bars like his to succeed.
"It's too easy for someone to use cause marketing as a gimmick and say some portion of your proceeds goes to help some certain cause," he said of the bar, which opened in late October. "If we're not transparent about that, people can obviously abuse that."
Like the Houston bar, Cause lets customers choose from four charities. At the end of a quarter, votes are tallied and each charity gets a percentage of the profits based on those votes.
Jason Franklin, executive director of New York-based Bolder Giving, an organization that educates people about philanthropy, said charity bars are another example of the blurring of boundaries between businesses and nonprofits.
Other businesses in recent years with similar philanthropic goals include Give Something Back, a California office supply company that's given 75 percent of its profits to charity; and Give Realty, an Austin, Texas, real estate company that donates 25 percent of its commissions.
Charitable giving took a hit after the recession, so nonprofits and similar groups continue to look for new ways to raise money, said Franklin, who also teaches courses on philanthropy at New York University.
"So if models like charity bars can prove effective, it's one more place to find new resources to do the work in communities that is needed," he said.
But, Franklin added, "If the drinks are bad, even if the giving is good, I think people will go elsewhere instead."
It's something Vilelle and other charity bar owners are aware of.
"First things first, you have to be a good bar and restaurant regardless of the charitable mission. That's not going to keep people coming back," Vilelle said.